BIOGRAPHY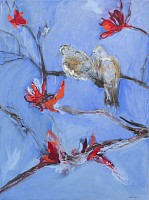 BRONWEN FINDLAY
(b. 1973 KwaZulu-Natal)
Bronwen Findlay's early years were spent in Kranskop (in the Tugela Valley), Brighton Beach (Durban) and Pietermaritzburg. She now lives and works in Johannesburg. She received her Master of Arts in Fine Arts and her Higher Diploma in Education from the University of Natal.

Bronwen considers herself both an artist and educationalist. She has taught in schools and universities and has been involved with informal community-based programmes. Her work has been exhibited nationally and internationally and may be seen in public institutions and private homes. She is essentially a painter, but her painterly approach to her subject matter can also be seen in her printmaking and mosaic art.

"My work is informed by spaces I have lived in, places I have been to, things I collect, people I collaborate with. I manipulate paint and colour in response to my subject matter. I like to think that "every picture tells a story" but that each painting exists as its own world.
I try to find beauty in things which might seem insignificant or not of great importance, the ordinary or everyday. I have painted domestic objects which may be loaded with cultural connotations – a willow-patterned piece of crockery from my grandmother, enamel tin plates and mugs bought from trading stores. Textiles and cloth have also played an important role in my work – I was influenced by the embroidery and beadwork created by women from the Limpopo province and for a time beaded my paintings with dots of paint. Colour and decoration have always been an important aspect of my painting. This decorative manipulation of paint may also be seen in more recent paintings of South African flora and fauna – while these works are hardly botanical, I hope that they capture a different reality."
- Bronwen Findlay

Julia Charlton on Bronwen Findlay:

Intense colour, vigorous paint, delight in the decorative and the elevation of the ordinary: these qualities characterise Bronwen Findlay's distinctive vision, which is strongly self-reflexive and personal. She challenges traditionally-held assumptions about hierarchies and value by selecting autobiographical subjects and domestic settings that are often dismissively associated with 'the female realm'. Findlay presents a persuasive argument for the relevance and significance of the everyday, by exploring issues of transience and change through the mechanisms of irony, sentimentality and embellishment, in a powerful affirmation of life.

SELECTED EXHIBITIONS

2012
MOVING FLOWERS
Exhibition of large and small paintings at the Everard Read Gallery, Johannesburg.

2009
matter and treasure and paint
Exhibition of large and small paintings at the South African National Arts Festival, Grahamstown.

2008
TURN AGAIN
Exhibition of paintings and prints held at the Tamasa Gallery, Durban
FLOATING AND FALLING
Exhibition of monotypes and paintings at David Krut Projects, Johannesburg.

2007
LUCKY BEANS AND LACE CURTAIN
Exhibition of mixed media prints at Artist Proof studio, Johannesburg

2006
EVERY PICTURE TELLS A STORY
Exhibition of paintings and prints, Substation, University of Witwatersrand, Johannesburg and KwaZulu Natal Society of Arts, Durban
ALL ABOUT EVERYTHING
Solo exhibition, Standard Bank Gallery, Johannesburg

2005
A BLANKET STORY
Exhibition of prints, David Krut Print Workshop, Johannesburg
Exhibition at TOKARA, Stellenbosch, curated by Julia Meintjes

2004
THE BRETT KEBBLE ART AWARDS, Cape Town

2002
FLOORS AND FLOWERS
Solo exhibition, Tamasa Gallery, Durban
FNB VITA ART AWARDS
Goodman Gallery, Johannesburg

2001
PAINTING, PRINTING, STITCHING
The work of Bronwen Findlay, Daina Mabunda, Faiza Galdhari
Natal Society of Arts, Durban
Grahamstown Festival of Arts
Standard Bank Gallery, Johannesburg

1998
BRINGING UP BABY: ARTISTS SURVEY THE REPRODUCTIVE BODY
National touring exhibition. Curated by Terry Kurgen

1997
Exhibition with Jeremy Wafer, Natal Society of Arts

1996
Solo exhibition, Elizabeth Gordon Gallery, Durban

1995
TRANSITIONS: CONTEMPORARY ART FROM SOUTH AFRICA
Touring exhibition presented by Bath Festivals Trust in association with OVA

1994
MAFA Exhibition, Jack Heath Gallery, University of Natal, Pietermaritzburg

1987
Exhibition with Aidan Walsh, Gallery International, Cape Town

1986
Solo exhibition, Café Geneve, Durban
Exhibition with Jeremy Wafer and Virginia Mackenny, Natal Society of Arts

1985
Exhibition with Andrew Verster and Clive van den Berg, Association of Arts, Pretoria

1983
SLAUGHTER
Solo exhibition, Natal Society of Arts, Durban

1977
Solo exhibition,Walsh Marais Gallery, Durban


AWARDS/NOMINATIONS

2007
Helgaard Steyn Award for painting.
Presentation held at North-West University

2004
Merit Award for A PAINTING ABOUT A BEDSPREAD, Brett Kebble Art Awards, Cape Town.

2002
Nominated for Vita Art Award


PUBLIC COLLECTIONS

Stegmann Gallery University of the Freestate
Durban Art Gallery
Tatham Art Gallery, Pietermaritzburg
Empangeni Art and Culture Museum
Carnegie At Museum, Newcastle, Natal
Durban Institute of Technology
UNISA Collection, Pretoria
Wits Art Galleries, University of Witwatersrand
Botany Department, University of Cape Town
Standard Bank
First National Bank
ABSA Bank
SASOL
MTN

COMMISSIONS/PROJECTS

2015
Mosaic for Biokinetic Centre, University of Johannesburg
Mosaic Panel for Arcache Home
Mosaics for Ruff home, St James
Mosaic panel for Buntman home, Johannesburg
2014
Mosaics for Read home, Johannesburg
Mosaic section for Pulford Home, Johannesburg
Mosaics for Tanya Zack, Ansteys building, Johannesburg

2013
Mosaics for Muller home, Johannesburg

2010
Facilitator and skills trainer for mosaic artwork at Lebone 11 College of the Royal Bafokeng. The mosaics were designed by Clive van den Berg and created and installed by artists from the Bafokeng community.

2006
Women Artists and Poets Advocate Children's Rights
Collaboration with Yvette Christianse
A project of Art for Humanity
ARTIST TO ARTIST exchange. Awarded by VISITING ARTS, UK
Collaboration with Joy Gregory, London

2001
Mosaic Project at Melrose Arch, Johannesburg.
Collaborated with Jane duRand and Andrew Verster to cover 400 sq metres of mosaic on a building designed by Omm Design Workshop, Durban
BREAK THE SILENCE
HIV/AIDS billboard and print portfolio project. Artists for Human Rights, Durban

2000
Designed book cover for JURISPRUDENCE: A SOUTH AFRICAN PERSPECTIVE
Edited by Johnson, Pete, duPlessis

1995 – 2000
Designed book covers for ALTERNATION: JOURNAL OF THE CENTRE FOR THE STUDY OF SOUTH AFRICAN LITERATURE AND LANGUAGES

1998
Mural for the Malherbe Library, University of KwaZulu Natal, Durban