PRESS RELEASE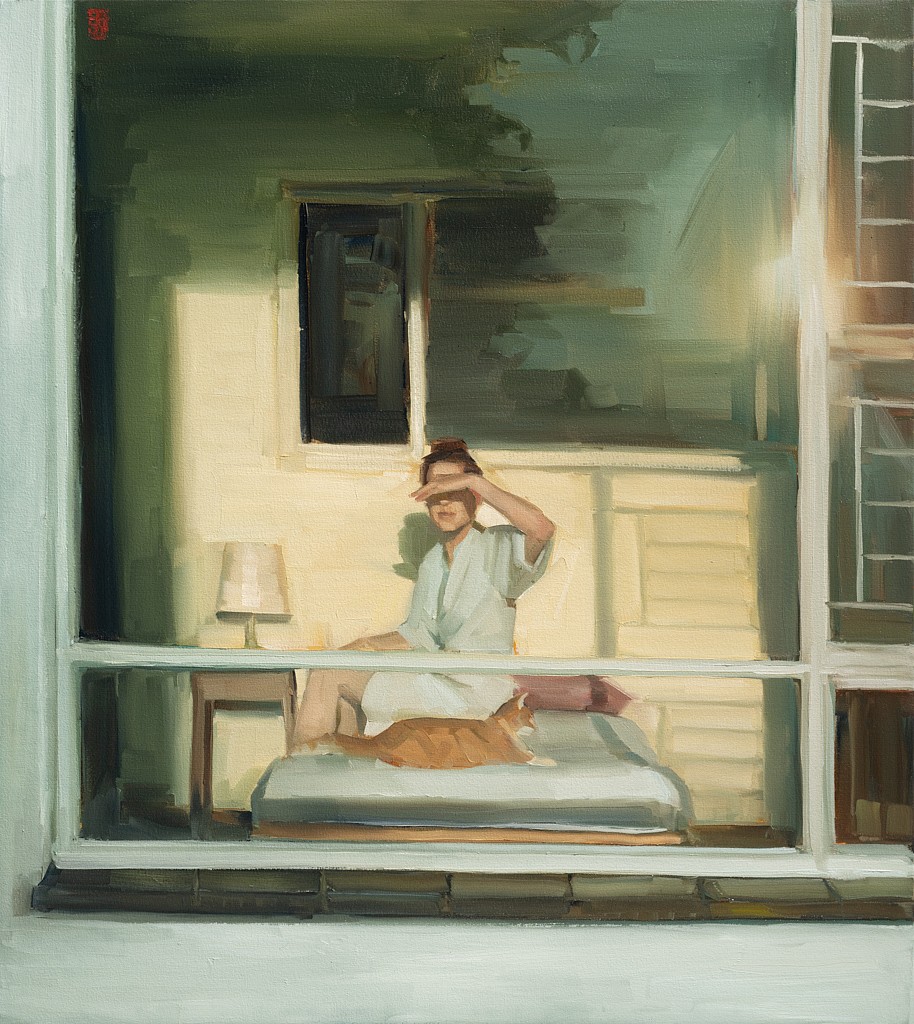 SASHA HARTSLIEF | Shadows and Reflections
Jan 26 – Feb 12, 2022
Sasha Hartslief | Solo Exhibition
26 January - 12 February 2022
VIEW ARTIST PAGE | VIEW CATALOGUE | REQUEST PRICES | +44 (0) 20 7590 9991
Everard Read London presents Shadows and Reflections, a solo exhibition of new oil paintings by South African artist, Sasha Hartslief.
Hartslief's is an art primarily of "emotional and physical observation that embraces shadowy evanescence and revels in the evocative sensuality of the female form", wrote journalist and arts writer Hazel Friedman, in Sasha Hartslief's catalogue for her 2009 exhibition at Everard Read Cape Town. "The women … in Hartslief's canvases exude an aura of ineffability."
Freidman's essay was subtitled "line, light and paint" and indeed, in Hartslief's latest collection of works, light itself continues to be the protagonist. Whether the soft morning light spilling into an interior landscape, sunshine reflecting brightly off a windowpane, or lamplight casting a warm glow on a sleeping figure, the light illuminates a fleeting moment - a woman reading, bathing, or at her toilette - infusing an everyday moment or ritual with poignancy. Hartslief uses brushstrokes to evoke the transience of light, colour and movement and each painting is as much a formal study in light, contours and line as it is an evocation of nuance. And she uses light to draw our attention to these ephemeral moments in our own lives, and to help us find beauty in them.
What interests Hartslief most in her painting practice is the emotive quality of light. Light is a defining element when viewing any scene, object or figure and a scene viewed in bright sunlight will convey a completely different feeling to the viewer when that same scene is viewed by candlelight or lamplight. Hartslief explains further, "In a way, light is a subtle language that we all perceive intuitively, and our entire sense of the world is dictated by the quality of light, and this is what has always fascinated me in the scenes which I construct and record. Like music, it is pre-verbal, and totally void of any intellectual constructs. It is something that I feel that I am just beginning to discover and appreciate, and I think I will always feel that way."
Many of Hartslief's scenes capture the intimacy of the home – a place where we can retreat from the world and our various roles and responsibilities. "Home tends to reflect our inner preoccupations and dominant moods" says Hartslief. We perceive this in the quiet, contemplative poses of her figures, who seem absorbed in their daily activities and their own subjectivity. The resonant scenes in this exhibition may be an externalisation of the interior, but they open a window for personal interpretation, coloured by our own thoughts, backgrounds and feelings.
"There is a kind of grace," Hartslief muses, "in those rare moments when one is entirely alone, lost in the moment and innocent of any inner dialogue. Ironically these are often moments of the greatest sense of connectedness with others."
This isolation of the artist, working alone in her studio, gives Hartslief perspective to reflect deeply on lived experience, granting a sense of shared preoccupations with others. This appreciation comes from the rich inner world of the artist who, privately in her work and away from social demands, reflects on her experiences of engaging with the outside world. She suffuses her paintings with light, it seems, to enhance the sense of underlying connection with others which comes from these periods of contemplation.
Everard Read has represented Sasha Hartslief for more than two decades. This is her third solo exhibition with Everard Read London.