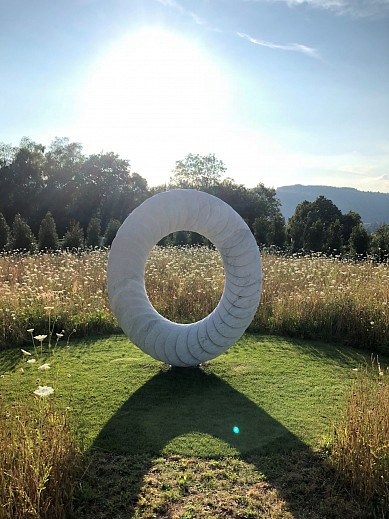 William Peers monumental marble sculpture at Linthwaite House, Lake District
September 19, 2018
British sculptor William Peers' monumental sculpture Wild Albert graces the lawn of the newly reopened Linthwaite House overlooking Lake Windermere in Britain's Lake District.
Carved from a single block of Carrara marble, the overlapping rings play tricks with the light and the sculpture appears to float amongst the wild flowers.
William Peers lives and works in Cornwall and he follows the long history of English stone carving brought to prominence by artists such as Henry Moore and Eric Gill.
Peers will have a solo exhibition at Everard Read London in March 2019.
Click here to receive the portfolio of works ahead of the exhibition.
Back to News