BIOGRAPHY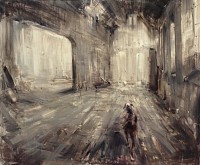 ALESSANDRO PAPETTI
(b.1958, Milan)
Born in Milan, where he continues to live and work today, Alessandro Papetti is one of Italy's foremost contemporary painters. He has exhibited widely for almost 30 years, notably at the Venice Biennale in 2003 and 2011, at major museums in Milan, Paris, Moscow, and Tokyo, and at galleries around the world.
A largely self-taught artist, Papetti's most recognizable works are sweeping, cinematic paintings focused on industrial archaeology, urban landscapes, portraits and nude studies, frequently painted from a high-angle perspective. Milan has served as an important backdrop for his work: I tend to use monochromatic colours. The light in my cities is fairly northern because I was born in Milan and that definitely had an influence. These are the colours from my city, from the air that I've breathed.
In 1995 Papetti met the writer and Giacometti biographer, James Lord, who wrote a significant critical essay on his work. Lord described Papetti's work as "profoundly Italian" and referenced the influence of Tintoretto: "The frenetic movement, ghostly perspective and supernatural sense of space so characteristic of the Venetian master have clearly left their mark on the young Milanese painter without, however, overpowering his personal and original view. He has, in short, mastered the configuration of his inner world, an achievement which is essential to the ontological transfiguration that endows with talismanic permanence the transitory detritus of our perishable selves and our world."
During the early years of his career, Papetti concentrated on the theme of Ritratti Visti Dall'Alto, a cycle to which Giovanni Testori devoted an article in Il Corriere Della Sera (an Italian newspaper) in 1989. This wide-angle view of real life was followed by a cycle of paintings created between 1990 and 1992, entitled Reperti (Relics), in which his attention was more focused on detail, and on the marks left by time in factory workshops and interiors. His studies of what he calls 'industrial archaeology' would become more in-depth in the years that followed as demonstrated, for example, in the 1996 exhibition at the Musei Civici in Villa Manzoni, Lecco, on the shores of Lake Como.
From 1992, Papetti began participating in exhibitions in public spaces and at various art fairs in Europe and the United States. In 1995, he began working between Milan and Paris. That same year, he met writer and biographer James Lord, who wrote an important critical text about the artist in 1996. During this period, Papetti's portraits and depictions of interiors ran parallel with his studies on the nude which became the subject of the show La Forza Dell'Immagine, la Pittura Del Realismo in Europa, held at the Gropius Bau Museum in Berlin in 1996, and Sui Generis at PAC in Milan.
These studies led him to create paintings in the cycle Acqua (Water) from 1998 onwards, exhibited for the first time at the Studio Forni in Milan in 1999. Here, we find bodies suspended motionless in swimming pools, or as in the series Il Bagno di Notte (Night Swimming), caught just before plunging into the blackness of a sea illuminated by a livid, lunar light. These were some of his first images of figures in outdoor settings.
The result of his new pictorial cycle and of the preceding cycle dedicated to industrial environments was the production of Cantieri Navali (Shipyards). In the 2002 show dedicated to this theme, Papetti exhibited the landscape of industrial ports, dry docks and gigantic hulls, together with a cycle of huge faceless nudes. It was an expression of the bodies of ships and humans in all their epic scale and fragility.
The years of 2003 and 2004 saw Papetti being invited to take part in several museum exhibitions – including one dedicated to Giovanni Testori at the Palazzo Reale in Milan and another entitled La Ricerca dell'identità which was exhibited at various public spaces across Italy.
In 2005, Papetti took part in the exhibitions Miracolo a Milano at Palazzo della Ragione and Il paesaggio italiano contemporaneo at Palazzo Ducale in Gubbio. In the same year, the Fondazione Mudima presented a retrospective of his work entitled Il Disagio Della Pittura, in which Papetti exhibited the last twenty years of his oeuvre in a selection of paintings ranging from Testorian figures viewed from above to the paintings on the theme of the Città. This was followed by a show entitled Il Ventre Della città.
In all these years, Papetti has regularly reworked themes and subject matter, exploring urban scenes, interior and exterior spaces and the blurred boundary between public and private spaces. His interest in industrial archaeology led to a series of paintings dedicated to the former Renault factory, exhibited in 2007 at the Musée des Années 30 in Paris, in a show entitled Île Seguin. In 2007, Vittorio Sgarbi also invited Papetti to take part in the show Arte Italiana. 1968-2007 Pittura at the Palazzo Reale in Milan. This year also saw him take part in the exhibition La Nuova Figurazione Italiana and continued at the Fabbrica Borroni in Bollate.
In 2009, Papetti participated in the show No Landscape - La sparizione del paesaggio, held at the Fondazione Bandera in Busto Arsizio and the group exhibition L'anima dell'acqua at the Ca' d'Oro in Venice. In the same year, he exhibited his cycle of circular paintings dedicated to water, the forest and the wind, in the exhibition Il Ciclo del Tempo at Palazzo Reale in Milan, curated by Achille Bonito Oliva. In these works (each painting is eight meters in diameter), the viewer's sense of perspective is disorientated by the format and scale of the paintings.
In 2010, Papetti had three solo exhibitions – in Tokyo, Vancouver and Palladio's Villa Manin (Italy). In 2011 he was invited to participate in the Italian Pavilion at the Biennale of Venice entitled L'arte nonè Cosa nostra. He also participated in the Pavilion of the Republic of Cuba.
Continuing his exploration of industrial archaeology, Papetti's 2012 show entitled Factories of Utopia was held at the Moscow Museum of Architecture – Muar. At the end of the same year, his solo exhibition Autobiografia Della Pittura was held at the Contini Art Gallery, with a critical essay by Luca Beatrice appearing in the catalogue.
During the Spring of 2013, several significant solo exhibitions took place outside of Italy: including at the Everard Read Gallery in Johannesburg; in Berlin at the Halle am Wasser @ Hamburger Bahnhof, curated by Frederik Foert and Gianluca Ranzi; and in Paris at the Mairie du Ier arrondissement.
At the beginning of 2014, Papetti participated in the exhibition Doppio Sogno, curated by Luca Beatrice and Arnaldo Colasanti, held in Palazzo Chiablese in Turin. In June, he opened a show at the Palazzo della Penna of Perugia, entitled La Pelle Attraveso.
Over the past fifteen years, Papetti has exhibited his works at major art fairs and collaborated with galleries across the globe. He is one of Italy's most innovative and exciting contemporary painters.
SELECTED SOLO EXHIBITIONS
2018
Alessandro Papetti and Aron Demetz, Everard Read London, London, UK
2017
Landscape, MARCA Museum of Catanzaro Arts
2016
I live here, Everard Read | CIRCA Gallery, London, UK
Fabbrica, Quadreria Bovara Reina, Malgrate, Italy
2015
I live here, Central Institute for Graphics, Palazzo Poli, Rome, Italy
2014
Palazzo Penna-Center of Contemporary Culture, Perugia, Italy
2013
Everard Read Gallery, Johannesburg, South Africa
Marie Ier arrondissment, Paris, France
Halle Am Wasser, Hamburger Banhof, Berlin, Germany
2012
Moscow, The Utopia Factories, Museum Of Architecture - MUAR, Moscow, Russia
Autobiography Of Painting, Galleria Contini, Cortina d'Ampezzo, Italy
2011
Italian Pavilion at the Biennale of Venice
The Cycle of Time, Auditorium Parco Della Musica, Rome, Italy
2010
Dynamic Spaces, Italian Institute Of Culture, Tokyo, Japan
Motion Investigation, Buschlen Mowatt Galleries, Vancouver, Canada
Eyes And Moons, Villa Manin, Passariano Di Codroipo, Udine, Italy
2009
The cycle of time, Palazzo Reale, Milan, Italy
Passages, First Gallery, Rome, Italy
2007
Alessandro Papetti. Ile Seguin, Musées des Années 30, Boulogne-Billancourt, Paris, France
Galerie Alain Blondel, Paris, France
Artistic and Cultural Club, Ortisei Bolzano, Italy
2006
Buschlen Mowatt Galleries, Vancouver, Canada
2005
Buschlen Mowatt Galleries, Palm Desert, California, USA
Everard Read Gallery, Johannesburg, South Africa
The discomfort of painting, Mudima Foundation, Milan, Italy
The belly of the city, Galleria Forni, Milan, Italy
2004
Galerie Alain Blondel, Paris, France
Buschlen Mowatt Galleries, Vancouver, Canada
2003
Finds, Galleria dello Scudo, Verona, Italy
Blue, Buschlen Mowatt Galleries, Palm Desert, California and Vancouver, Canada
Forni Gallery, Bologna, Italy

2002
Galerie Alain Blondel, Paris, France
The Everard Read Gallery, Johannesburg, South Africa
Forni Gallery, Milan, Italy
2001
Wasser, Civic Museum of Chiusa, Bolzano, Italy
De Twee Pauwen Gallery, Den Haag, The Netherlands

2000
Buschlen Mowatt Galleries, Vancouver, Canada
Forni Gallery, Bologna, Italy
1999
Water, Galleria Forni, Milan, Italy
1998
Buschlen Mowatt Galleries, Vancouver, Canada
Galerie Alain Blondel, Paris, France
1997
Municipal Gallery of Art, Cesena, Italy
1996
Davico Gallery, Turin, Italy
Civic Museums of Villa Manzoni, Lecco, Italy
Forni Gallery, Bologna, Italy
1995
Galerie Alain Blondel, Paris, France
1993
Zedes Art Gallery, Brussels, Belgium
1992
Galleria Rotta, Genoa, Italy
Galleria del Cavallino, Venice, Italy
Bellinzona Gallery, Lecco, Italy
1990
Bocconi University, Milan, Italy
1989
Galleria Rotta, Genoa, Italy
1986
Galleria Busi, Chiavari, Genoa, Italy
San Michele Gallery, Brescia, Italy
1985
Schubert Gallery, Milan, Italy
Corrente Foundation, Milan, Italy
1984
San Michele Gallery, Brescia, Italy
1983
Bayerische Vereinsbank, Milan

SELECTED GROUP EXHIBITIONS
2020
Summer, Everard Read, London, UK
Winter 2020, Everard Read, London, UK
Still, Everard Read, London, UK
2019
Summer, Everard Read, London, UK

2018
Alessandro Papetti and Aron Demetz, Everard Read, London, UK
Miart, Intesa San Paolo, Milan, Italy
Artefiera, Poggiali Gallery, Bologna, Italy
2017
The Museum of Folly: from Goya to Maradona, Museum of Folly, Naples, Italy
Artefiera, Poggiali Gallery, Bologna, Italy
2016
The Art Point of View, Casa del Mantegna, Mantua, Italy
Artefiera, Poggiali Gallery, Bologna, Italy
ArtVerona, Poggiali Gallery, Verona, Italy
Summer Exhibition, Everard Read, London, UK
Christmas Collection, Everard Read, London, UK
2015
Artefiera, Poggiali Gallery and Forconi, Bologna, Italy
Tentazioni, Zabert Gallery Turin, Italy
Miart, Poggiali and Forconi, Milan, Italy
56th Venice Biennale - Collateral Event Italia Docet Laboratorium, Venice, Italy
Poggiali & Forconi, ex-marbles of Pietrasanta, August, Italy
2014
Double Dream. Painting and sculpture at the Royal Polo. From Warhol to Hirst, from De Chirico to Boetti, Palazzo Chiablese-Polo Reale of Turin, Turin, Italy
Artefiera, Poggiali Gallery and Forconi, Bologna, Italy
Miart, Galleria Poggiali and Forconi, Milan, Italy

2013
Artefiera, Contini Gallery, Bologna, Italy
Miart, Galleria Contini, Milan, Italy
Poggiali & Forconi, ex-marbles of Pietrasanta, August, Italy
ArtVerona, Poggiali and Forconi, Verona, Italy
2012
Artefiera, Forni Gallery, Bologna, Italy
Cui Bono, Kogart Galeria, Budapest, Hungary
Miart, Galleria Forni, Milan, Italy
2011
Artefiera, Forni Gallery, Bologna, Italy
Les Arbres, Forni Gallery, Bologna, Italy
Art is not our thing, Italian Pavilion, Biennale d'Arte, Venice, Italy
Cuba Pavilion, Biennale of Art, Venice, Italy
The other face. Contemporary self-portraits, Galleries of the Gerosolimitani, Perugina, Italy
ArtVerona, Forni Gallery, Verona, Italy
Those that remain, Spazio Oberdan, Milan, Italy
The First Italian Show, First Gallery, Rome, Italy
2010
Ex Novo, Banca Akros, Milan, Italy
Sport in Italian art, Palazzo Frisacco, Tolmezzo, Italy
Italian Portraits, Modern Art Gallery Aroldo Bonzagni di Cento and Durini Foundation in Milan, Italy
2x010, Italy Pavilion, Shanghai Expo 2010, Shanghai, China
Landscape, Galleria Forni, Bologna, Italy
2009
Furia Animae, Libra Contemporary Art, Catania, Italy
The City, Everard Read, Cape Town, South Africa
The soul of water, Ca 'd'Oro, Venice, Italy
No Landscape, Bandera Foundation, Busto Arsizio, Varese, Italy
Appetite for Destruction, National Museum of Villa Guinigi, Lucca, Italy
Contemplations. Beauty and tradition of the new in contemporary Italian painting, Castel Sismondo, Rimini, Italy
Italy painted, IULM University, Milan, Italy
Bologna Art First, Galleria Forni, Bologna, Italy
The promises kept, Il Triangolo Circolo Culturale, Cremona, Italy
2008
Artefiera, Forni Gallery, Bologna, Italy
Miart, Galleria Forni, Milan, Italy
Figures in the subject (Unicredit), Galleria Forni, Bologna, Italy
10 - pictorial - years, Studio Forni, Milan, Italy
Sensitive architectures, Castello di Rivara Center of Contemporary Art, Rivara, Turin, Italy
Artists for Arianna, Superstudio, Milan, Italy
A helping hand for Ail, Christie's, Milan, Italy
Red and black, Galleria Silvano Lodi & Due, Milan, Italy
Art Intensive !, Villa Borromeo D'Adda, Arcore, Italy
2007
Artefiera, Forni Gallery, Bologna, Italy
London Art Fair, Frost & Reed Gallery, London, UK
Italian Painting today New Romanticism, City of Cremona Foundation, Italy
A sea of art - Mediterranean mirror of the sky, Palazzo Sant'Elia, Palermo, Italy
Water - water in contemporary art, Palazzo Ducale, Pavullo nel Frignano, Modena, Italy
Italian Art 1968_2007. Painting, Palazzo Reale, Milan, Italy
The new Italian figuration.To Be Continued, Fabbrica Borroni Bollate, Milan, Italy
Dangerous curves, West Gate of Porta Venezia, Milan, Italy
Between God and Man: Angels in Italian Art, Mississippi Museum of Art, Jackson, USA
New painters of reality, Pac, Milan, Italy
Signs, journey in contemporary design, Casa d'Arte S. Lorenzo, Milan, Italy
2006
Artefiera, Forni Gallery, Bologna, Italy
Miroir de l'Art, Galerie Alain Blondel, Paris, France
MIART, Galleria Forni, Milan, Italy
Views and visions, Galleria Forni, Milan, Italy
Er Zij Licht, De Twee Pauwen Gallery, Amsterdam, The Netherlands
Pavillon des Antiquaires et des Beaux-Arts, Galerie Blondel, Paris, France
St'Art Fair, Galleria Forni, Strasbourg, France
Art Verona, Galleria Forni, Verona, Italy
The city that rises, Galleria Santamarta, Milan, Italy
Forte Arte, Fort of Fortezza, Fortezza, Bolzano, Italy
Figurae, Galleria Factory, Modena, Italy
2005
Artefiera, Forni Gallery, Bologna, Italy
Realisme 05, De Twee Pauwen Gallery, Amsterdam, The Netherlands
Urban Lanscape, Art Paris, Forni Gallery, Paris, France
MIART, Galleria Forni, Milan, Italy
For Rossana Bossaglia, Municipality of Pavia, S. Maria Gualtieri, Pavia, Italy
Miracle in Milan, Palazzo della Ragione, Milan, Italy
The interior portrait - from Lotto to Pirandello, Regional Archaeological Museum, Aosta - Banca Popolare di Lodi, Lodi, Italy
The contemporary Italian landscape, Palazzo Ducale, Gubbio, Italy
Eccentric primitive visionaries - from Alberto Martini to Licini, Ligabue, Ontani, Galleria Civica of Palazzo Loffredo, Potenza, Italy
Summer. Pictorial stories, Studio Forni, Milan, Italy
The colors of black, Galleria Forni, Bologna, Italy
2004
Nudo, Galleria Forni, Bologna, Italy
Artefiera, Forni Gallery, Bologna, Italy
St'Art Art Fair, Forni Gallery, Strasbourg, France
Fire, Galleria Marieschi, Milan, Italy
From Tiziano to de Chirico. The search for identity, the cultural center of Sant'Agostino, Ascoli Piceno, Italy
Art Fair, Gallera Rubin, Frankfurt, Germany
Miart, Galleria Forni, Milan, Italy
Early Middle Ages, Palazzo Pretorio, Certaldo, Florence, Italy
Scandaglio, Municipality of Imbersago, Lecco, Italy
Realisme 04, De Twee Pauwen Gallery, Amsterdam, The Netherlands

2003
Artefiera, Forni Gallery, Bologna, Italy
St'Art Art Fair, Forni Gallery, Strasbourg, France
City, Galleria Forni, Milan, Italy
Miart, Galleria Forni, Milan, Italy
Faces, Sala del Consiglio comunale, Vanzaghello, Milan, Italy
Giovanni Testori. A portrait, Palazzo Leone da Perego Mazzotta, Legnano, Milan, Italy
Holland Fair, De Twee Pauwen Gallery, Den Haag, The Netherlands
Italian Factory. The new Italian art scene, Istituto Santa Maria della Pietà, Venice European Parliament, Strasbourg; The Promoter, Turin, Italy
From Tiziano to de Chirico. The search for identity, Castel San Michele, Cagliari, Italy
Van Italiaanse signatuur, De Twee Pauwen Gallery, Den Haag, The Netherlands
From Antonello to de Chirico. The search for identity, Albergo delle Povere, Palermo, Italy
Cluedo. Assassination in the Cathedral, Sant'Ignazio, Arezzo, Italy
The figure, Galleria Davico, Turin, Italy
International Art Fair, Buschlen Mowatt Galleries, Toronto, Canada
Art Paris, Forni Gallery, Paris, France
Giovanni Testori. The secrets of Milan, Palazzo Reale, Milan, Italy
The body of the soul, Galleria Ibiscus, Bologna, Italy
Water, Beukers Gallery, Rotterdam, The Netherlands
Under vacuum. The discreet memory, Contemporanea Giovani, Como, Italy
2002
Artefiera, Forni Gallery, Bologna, Italy
Miart, Galleria Forni, Milan, Italy
Art Fair, De Twee Pauwen Gallery, Rotterdam, The Netherlands
Art Palm Beach, Buschlen Mowatt Galleries, Palm Beach, USA
International Art Fair, Buschlen Mowatt Galleries, Toronto, Canada
St'Art Art Fair, Forni Gallery, Strasbourg, France
Il Po in backlight, Complesso degli Olivetani, Rovigo, Italy
Contemporary portrait, Torre di Moggio Udinese, Udine, Italy
Eighty years. 40 of exhibitions, Galleria Forni, Bologna, Italy
Sconfinamenti, Castle of Spezzano, Fiorano Modenese, Modena, Italy
2001
Artefiera, Forni Gallery, Bologna, Italy
Salon de Mars, Galleria Forni, Genève, Switzerland
Art Fair, Forni Gallery, Barcelona, Spain
Art Palm Beach, Buschlen Mowatt Galleries, Palm Beach, USA
Art Miami, Buschlen Mowatt Galleries, Miami, USA
International Art Fair, Buschlen Mowatt Galleries, Toronto, Canada
St'Art Art Fair, Forni Gallery, Strasbourg, France
Miart, Galleria Forni, Milan, Italy
In medias res-In the living of painting, Galleria Forni, Milan, Italy
Figuration, Galleria Forni, Milan, Italy
2000
Artefiera, Forni Gallery, Bologna, Italy
Art Fair, Buschlen Mowatt Galleries, Miami, USA
Art Fair, The Twee Pauwen Galleries, Den Haag, The Netherlands
Sui Generis, PAC, Milan, Italy
Pavillon, Galerie Alain Blondel, Paris, France
Miart, Galleria Forni, Milan, Italy
Art 2000, Buschlen Mowatt Galleries, London, UK
International Art Fair, Toronto, Canada
From Boccioni to Bacon to the contemporary, Galleria Forni, Bologna, Italy
Figuration in Milan after World War II to date, La Posteria, Milan, Italy
1999
Artefiera, Forni Gallery, Bologna, Italy
Art Fair, Buschlen Mowatt Galleries, Miami, USA
Miart, Galleria Forni, Milan, Italy
The becoming and the shadow, Fermo, Ascoli Piceno, Italy
Lawrence Rubin Gallery, Milan, Italy
Art 98, Gallery Lawrence Rubin, Basel, Switzerland
Realism Knows no Bounds, Van de Griff Gallery, Santa Fe, USA
Emerging, Galleria Forni, Bologna, Italy
Art Fair, Buschlen Mowatt Galleries, Beverly Hills, USA

1998
Artefiera, Forni Gallery, Bologna, Italy
Miart, Galleria Forni, Milan, Italy
Morlotti Award, Milan, Italy
Opera generates work, poetry and painting in Bologna, Bologna, Italy
Art Fair, Galleria Rotta, Barcelona, Spain
Art Palm Beach, Buschlen Mowatt Galleries, Palm Beach, USA
Art International, Buschlen Mowatt Galleries, New York, USA
Biennial of sacred art, Stauros San Gabriele Foundation, Teramo, Italy
Writing about painting, Il Triangolo Gallery, Cremona, Italy
Ghiggini Gallery, Varese, Italy
In Figure, Sala del Consiglio, Camorino, Canton Ticino, Italy
The grass is still warm on my lawns, Galleria Forni, Milan, Italy
Miart, Galleria Forni, Milan, Italy
The new portrait in Italy, Spazio Consolo, Milan, Italy
1997
Artefiera, Forni Gallery, Bologna, Italy
Miart, Galleria Forni, Milan, Italy
Art Fair, Buschlen Mowatt Galleries, Miami, USA
Art Fair, Buschlen Mowatt Galleries, Seattle, USA
Forni Gallery, Bologna, Italy
The black leather, Galleria Marieschi, Monza, Italy
Portraits in Testori, Casa dei Carraresi, Treviso, Italy
Art Fair, Buschlen Mowatt Galleries, Singapore, Singapore
Art Fair, Buschlen Mowatt Galleries, Washington, USA
Art Fair, Buschlen Mowatt Galleries, Vancouver, Canada
Artissima, Galleria Forni, Turin, Italy
Continuity of the image, Mole Vanvitelliana, Ancona, Italy
1996
Artefiera, Forni Gallery, Bologna, Italy
Art Fair, Buschlen Mowatt Galleries, Miami, USA
Art Fair, Buschlen Mowatt Galleries, Seattle, USA
Art Fair, Buschlen Mowatt Galleries, Singapore, Singapore
The power of the image, the painting of realism in Europe, Martin Gropius Bau, Berlin, Germany
Salon de Mars, Galerie Alain Blondel, Paris, France
Metropolis. Forty artists from the metropolitan areas of Milan and Berlin, traveling exhibition
Lineart Expò, Galleria Rotta, Ghent, Belgium
Paintings, Casa dei Carraresi, Treviso, Italy

1995
Artefiera, Forni Gallery, Bologna, Italy
Rooms, interiors and interior, Palazzo Foscolo, Pinacoteca "A. Martini ", Oderzo, Udine, Italy
Continuity of talent, Galleria Forni, Bologna, Italy
Salon de Mars, Galerie Alain Blondel, Paris, France
The narrating gaze, Galleria Comunale d'Arte, Cesena, Italy
Chicago Art Fair, Galleria Forni, Chicago, USA
London Art Fair, Buschlen Mowatt Galleries, London, UK
Galleria Marieschi, Monza, Italy
Singapore Art Fair, Buschlen Mowatt Galleries, Singapore, Singapore
Fiac, Galerie Alain Blondel, Paris, France
Art Fair, Buschlen Mowatt Gallery, Hong Kong, Hong Kong
Zehn Von Hundert, Zehn Jahre Basf Kunstaustellung, Feierabenhaus, Ludwigshafen, Basf, Germany
Lineart Expò, Galleria Rotta, Ghent, Belgium
Schubert Gallery, Milan, Italy

1994
Artefiera, Forni Gallery, Bologna, Italy
Venature, Sala della Provincia, Sondrio, Italy
Museum of the Alto Mantovano, Mantova, Lombardy
Twenty painters in Italy, traveling exhibition in the galleries:
Filò Arte Contemporanea, Treviso, Italy
Castello Estense, Mesola, Ferrara, Italy
Former convent of San Francesco, Sciacca, Agrigento, Italy
Scudo Gallery, Verona, Italy
Galleria Basile, Palermo, Italy
Flok Art, Reggio Emilia, Italy
Il Triangolo Gallery, Cremona, Italy
Forni Gallery, Bologna, Italy
Galleria Bergamini, Milan, Italy
Compagnia del Disegno, Milan, Italy
Bellinzona Gallery, Lecco, Italy
Bambaia Gallery, Busto Arsizio, Varese, Italy
Real and imaginary, Santa Maria della Pietà, Cremona, Itlay
Arte Fiera, Lingotto, Turin, Italy
Lineart Expò, Galleria Rotta, Ghent, Belgium
1993
Artefiera, Forni Gallery, Bologna, Italy
Metropolitan Utopias, Polytechnic University, Milan, Italy
Venature, Castello Mediceo, Melegnano, Milan, Italy
Erschlossene Räume, Ettensburg Schloss, Weimar, Italy
Lineart Expò, Galleria Rotta, Ghent, Belgium
XXXII National Biennial of Art, Palazzo della Permanente, Milan, Italy
1992
Sieben Künstler aus Mailand, Feierabendhau, Ludwigshafen, Basf, Germany
Seven young artists, Palazzo della Permanente, Milan, Italy
1991
The portrait in Italian painting of the 20th century, Castello Estense, Mesola, Ferrara, Italy
1990
Permanent Art, Palazzo della Permanente, Milan, Italy
Corrente Foundation, Milan, Italy
1987
XXX National Biennial of Art, Prize for Painting, Palazzo della Permanente, Milan, Italy
Biennale Young Contemporary Art, Castello, Sartirana Lomellina, Pavia, Italy
Castello, Trezzo d'Adda, Milan, Italy

1986
Corrente Foundation, Milan, Italy
1984
Schubert Gallery, Milan, Italy