BIOGRAPHY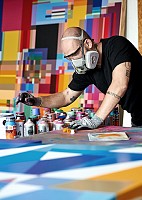 ANDRZEJ URBANSKI
(b. 1983 in Poznan, Poland | Lives and works in Cape Town, South Africa)
"I believe I can be better than the machine." - Andrzej Urbanski
The street runs deeply in his blood. Andrzej Urbanski left his days of full-time "train bombing" back in Berlin where he started writing in his teens and now creates large, shimmering, optically bending spaces composed from the architectural squares, triangles and hexagons of today's contemporary built environment.
His years as an undergraduate student in the newly de-walled Berlin was a time of full-time devotion to graffiti for this Polish-born but Germany based artist. It was only after he had received his BA in Communication and Graphic Design (BTK-FH, Berlin) (2010) and he set off to complete an MFA at the University of Art and Design in Lausanne, Switzerland (2012), that Urbanski left the train yards behind to pursue a more traditional form of painting.
Urbanski's works are a culmination of that biography, a testament to abstract art as a direct engagement with the world, not a withdrawal from it.
Since his 2012 Residency in South Africa Urbanski has devoted his time to the streets, cultures and social interactions of his adopted home city, Cape Town.
SOLO EXHIBITIONS
2022
ANDRZEJ URBANSKI: Hedron, Everard Read, Cape Town, South Africa
2020
ANDRZEJ URBANSKI: A04 3684/618/20, Everard Read, Cape Town, South Africa
Digital Frequencies, Everard Read, London, UK
2018
ANDRZEJ URBANSKI:AB02 833/387/18, Everard Read, London, UK

2017
ANDRZEJ URBANSKI: AB01, Everard Read, Cape Town, South Africa
SELECTED EXHIBITIONS
2020
A04 3684/618/20, group show, Everard Read, Cape Town, South Africa
Investec Cape Town Art Fair, with Everard Read / CIRCA Cape Town, South Africa
2019
Investec Cape Town Art Fair, with Everard Read, Cape Town, South Africa
CONTEXT Art Miami, with Everard Read, Miami, USA
SUMMER, Everard Read, London, UK
Southern Aspect - A Group Exhibition, Everard Read, London, UK
Summer, Everard Read, Cape Town, South Africa

2018
Andrzej Urbanski - AB02 833/387/18, Everard Read Gallery, London, UK
A03 2034/538/18, CIRCA, Johannesburg, South Africa
A03 2034/538/18, CIRCA, Johannesburg, South Africa
Investec Cape Town Art Fair, with Everard Read / CIRCA Cape Town, South Africa
Summer, Everard Read / CIRCA Cape Town, South Africa

2017
AB01 1200/550/17, CIRCA Cape Town, Cape Town, South Africa
Summer exhibition, Everard Read Gallery, London, UK
Spectrum, Group exhibition, CIRCA Gallery, Johannesburg, South Africa
Southern Abstraction, Everard Read Gallery, London, UK

2016
HARDLINE, CIRCA Cape Town, Cape Town, South Africa
FNB Joburg Art Fair solo booth, Salon91, Selected Projects & Exhibitions, Johannesburg, South Africa
AKKA Art Fair, Everard Read/ CIRCA Booth, Paris, France
Paths, two-man exhibition with Tahiti Pehrson at Salon91, Cape Town, South Africa

2015
Bronze, Steal and Stone, Circa & Everard Read, Johannesburg, South Africa
This is the Place, Salon91, South Africa
Turbine Art Fair, Salon91, South Africa
MINDGAME, Salon91, South Africa
Cape Town Art Fair, Salon91, South Africa
Golden Haze, Salon91, South Africa

2014
Turbine Art Fair, Salon91, Johannesburg, South Africa
Paper is You II, Salon91, Cape Town, South Africa
Cape Town Art Fair, Salon91, South Africa

2013
Cape Town Art Fair, Salon91, Cape Town, South Africa
A Vacant Passage, Works by Paul Senyol & Andrzej Urbanski, Salon91, South Africa
Abstract Stories, /A Word of Art, Cape Town, South Africa

2012
Kalahari Catalyst Art Auction, Cape Town, South Africa
One K Collection, Lovell Gallery, Cape Town, South Africa
Chance Visitor, A Word of Art, Cape Town, South Africa
Neo-Maso, Geneva, Switzerland
Art Base, Art Festival, Berlin, Germany
Retranchment-Manoir de Martigny, Switzerland
Living Walls, The City Speaks, Atlanta, Gerogia, USA
The Swarm exhibition, Vancouver, Canada
Process No. 14, works by Sabine Grizmek, Andrzej Urbanski and Carina Jo Sivager, Prozessgallerie, Berlin, Germany
Process No. 01, Prozessgallerie, Berlin, Germany

2011
Process No. 14, Sabine Grizmek, Andrzej Urbanski and Carina Jo Sivager, Prozessgallerie, Berlin, Germany