BIOGRAPHY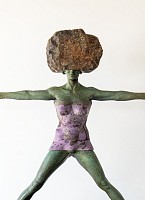 ANGUS TAYLOR
(b.1970 Johannesburg, South Africa)
"You can only write poetry in a language you know." – Angus Taylor

Angus Taylor is known for his powerful, often monumental, sculptural works made from materials from his immediate environment - Belfast granite, red Jasper and the orange earth found near Johannesburg. Although he references traditional South African crafting techniques, his works are unmistakably contemporary. Taylor's craftsmanship, bold and visionary approach and his original use of materials has resulted in many ambitious public and private commissions around the world.

Taylor is a graduate of the University of Pretoria, which awarded him an Alumni Laureate in 2005. Her currently teaches part-time at the University of Pretoria and served as advisor to the Tshwane University of Technology.

In 1997, Taylor established Dionysus Sculpture Works, a studio and workshop combining all aspects of sculpture production: from conceptualisation to clay modelling, carving to casting. He casts his own and other prominent sculptors' work including Deborah Bell, Norman Catherine and Sam Nhlenghthwa), and also nurtures the talent of young and developing artists.

In addition to numerous solo and group exhibitions in South Africa and internationally, Taylor is actively involved in national and local government as well as private sector large-scale commissions. These include the Solomon Mahlangu statue in Mamelodi (Pretoria), the statue of Chief Tshwane in front of the Pretoria City Hall as well as the work commemorating South African anti-apartheid Afropop singer, Brenda Fassie, in Newtown, Johannesburg.


SELECTED SOLO EXHIBITIONS

2023
Layers of Being, Everard Read, London, UK
2021
Quarried Consciousness, Everard Read, Cape Town, South Africa

2020
Immanence | Transcendence, Everard Read, London, UK
2017
In the middle of it, Everard Read Gallery, London, UK
Art Angels Africa Auction, London, UK

2014
From Explicit to Implicit, Everard Read Gallery, Johannesburg,South Africa
2011
Biography of Material, Everard Read Cape Town, South Africa
2010
Solo Exhibition, Circa at Everard Read, Johannesburg, South Africa
2006
Deduct, University of Johannesburg, South Africa
Deduct, University of Pochefstroom, South Africa
Deduct, Grand Provance Gallery in Franschhoek, South Africa
2005
Recent Works, Artspace, Johannesburg, South Africa
2004
Solo Exhibition, Dorpstraat Gallery, Stellenbosch, South Africa
2003
Barefoot, Baggage Free, Bronze Age Sculpture House, SimonsTown, South Africa
Barefoot, Baggage Free, Mind's-i, Pretoria, South Africa
2000
Africana & Other Baggage, Gallery 88, Sasolburg, South Africa
1999
Africana & Other Baggage, The Open Window Contemporary Gallery, Pretoria, South Africa
SELECTED GROUP EXHIBITIONS

2019
SUMMER, Everard Read, London, UK
Masterpiece Art Fair, Everard Read, London, UK
Southern Aspect - A Group Exhibition, Everard Read, London, UK

2018
Tacit, travelling group exhibition in celebration of DSW's 20th birthday, Oliewenhuis Art Gallery, Bloemfontein

2016
Bronze, Steel & Stone, Everard Read, London, UK
2015
Bronze, Steel & Stone, Everard Read, Johannesburg, South Africa
1:54 Contemporary African Art Fair, CIRCA Gallery Booth, London, UK
FNB Art Fair, Everard Read Gallery Booth, Johannesburg, South Africa
Capital: Present, Fried Contemporary, Pretoria, South Africa
2014
FNB Art Fair, Everard Read Gallery Booth, Johannesburg, South Africa
Summer Showcase, Tokara Estate, Stellenbosch, South Africa
2013
Summer of Sculpture II, Mount Nelson Gardens in Association with Everard Read Cape Town, South Africa
Sculpt - Group Exhibition, William Humphreys Art Gallery, Kimberley, South Africa
After the Rainbow Nation, Nirox Sculpture Park, Cradle of Humankind, South Africa
FNB Art Fair, Everard Read Gallery Booth, Johannesburg, South Africa
DSW Group Exhibition, Pretoria Art Association, Pretoria, South Africa
2012
Summer of Sculpture, Mount Nelson Gardens in Association with Everard Read Cape Town, South Africa
The Rainbow Nation - Group Show, Lange Voorhout, Den Hague, Netherlands
The Winter show - Group show, Everard Read, Johannesburg, South Africa
2009
Great South African Nude Exhibition - Group Exhibition, Everard Read, Johannesburg, South Africa
2008
FNB Art Fair, Everard Read Gallery Booth, Johannesburg, South Africa
2007
Group exhibition, London, UK
2006
Creative Creatures - Group Exhibition, Aardklop Arts Festival, Potchefstroom, South Africa
2005
Funcky Functional - Group Exhibition, Gordart Gallery, Mellville, Johannesburg, South Africa
Porn Again - Group Exhibition, Merely Mortal Gallery, Johannesburg, South Africa
Group Exhibition, Absa Atelier National Art Competition, Johannesburg, South Africa
Group Exhibition, Aardklop Arts Festival, Potchefstroom, South Africa
Group Exhibition, Oliewenhuis Museum, Bloemfontein, South Africa
2004
Off the Record - On the Record, Gordart at The Thompson Gallery Johannesburg, South Africa
Group Exhibition, Art. co.za Gallery, Parktown North, Johannesburg, South Africa
Two Man Show, Wizards Gallery, Johannesburg, South Africa
2003
Dawid's Choice, Dorp Straat Gallery, Stellenbosch, South Africa
Opening Exhibition, Group Exhibition, New 'Bronze Age' Sculpture House, Simon's Town, South Africa
St. Valentine's, Group Exhibition, Mind's-i, Pretoria, South Africa
Group Exhibition, Gallery 88, Sasolburg, South Africa
Group Exhibition, Aardklop Arts Festival, Potchefstroom, South Africa
Group Exhibition, Gordart at The Thompson Gallery, Johannesburg, South Africa
2002
Drawing Conclusion, Group Exhibition, Curated by Diane Victor, National Art Association, Johannesburg, South Africa
WAM, Sasol Wax Group Exhibition, Sasolburg, South Africa
A Show of Angels, The Open Window Contemporary Gallery, Pretoria, South Africa
SELECTED PUBLIC COLLECTIONS
Pretoria Art Museum, Pretoria, South Africa
Rand Merchant Bank, South Africa
Sasol, South Africa
University of Pretoria, South Africa
University of the Freestate, South Africa
AWARDS

2017
Helgaard Steyn Award for Sculpture
2005
University of Pretoria, Alumni Laureate
1994
Best Sculpture Student (UP)
1994
1st Prize - PPC Young Sculptors Award