BIOGRAPHY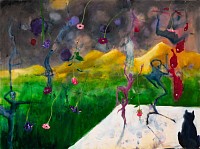 BEEZY BAILEY
(b. 1962, Johannesburg, South Africa)
Beezy Bailey is a multi-disciplinary artist whose practice includes painting, sculpture, drawing, printmaking and ceramics.
He studied Fine Art at the Byam Shaw School of Art, in London (1983-86). Over a thirty-five-year career, he has exhibited in South Africa and internationally. In 2011 he had a solo exhibition at the Chenshia Museum in Wuhan, China; and in 2015 he was part of the official programme at the Venice Biennale. He has a history of close collaboration with other artists, most notably David Bowie, Brian Eno and Dave Matthews.
Bailey's work is represented in important art collections around the world, including the David Bowie Collection, the Getty Family Collection and the Oppenheimer Collection. His work is also in the permanent collections of Sasol, Standard Bank, Investec Bank, the Kunsthaus Zurich, and the South African National Gallery.
SELECTED EXHIBITIONS

2021
Summer 2021, Everard Read, London, UK
The Love Revolution, solo, Everard Read, Cape Town South Africa
Double Vision, with Stuart Dodds, Gallery at Glen Carlou, Stellenbosch, South Africa
2020
Us, (online exhibition) Everard Read
Staring Straight to the Future, (online exhibition) Everard Read
A Celebration of Fine Art Sculpture, Everard Read, Franschhoek, South Africa
Investec Cape Town Art Fair, with Everard Read, Cape Town, South Africa
Winter, Everard Read, London, UK
2019
Solo accompanying the launch of his monograph at Everard Read, Cape Town, South Africa
Summer, Everard Read, London, UK
Context Art Miami, with Everard Read, Miami, USA
Southern Aspect, Everard Read, London, UK
2018
Light Beyond the Dark, solo, Everard Read, London, UK
Investec Cape Town Art Fair with Everard Read, Cape Town, South Africa
FNB Joburg Art Fair with Everard Read, Johannesburg, South Africa
2017
People & Portraiture, Everard Read, Cape Town, South Africa
Summer exhibition, Everard Read, London, UK
Bronze, Steel and Stone II, Everard Read, London, UK
2016
Opening Gallery Exhibition, Everard Read, London, UK
1000 Year Dance Cure, solo, inaugural exhibition of CIRCA Cape Town, South Africa
2015
The Sound of Creation: Sound Paintings by Beezy Bailey and Brian Eno, 56th International Art Exhibition, Venice Biennale, Venice, Italy
2014
Landscapes with a Twist, solo, Everard Read Gallery, Johannesburg, South Africa
Itica Pritica, Beezy Bailey and Dave Mathews, Everard Read Gallery, Cape Town, South Africa
2013
As it is in Heaven, solo, Everard Read, Cape Town, South Africa
Itica Pritica, two man show with Dave Matthews, Robert Miller Gallery, New York, USA
2012
As It Is in Heaven, solo, Circa on Jellicoe, Johannesburg, South Africa
10,000 Trees Landscape, greening project for the Cape Flats, South Africa
2011
Icon-Iconoclast, solo, Everard Read, Johannesburg, South Africa
15th Anniversary, group exhibition, Everard Read, Cape Town, South Africa
2009
Dancing Christ, solo, Spring Art Tour, Everard Read, Cape Town, South Africa
Sex Power Money, group exhibition, Everard Read, Cape Town, South Africa
2008
Being blown backward into the future, solo, Everard Read, Johannesburg, South Africa
2007
Fallen Angels & Other Dreams, solo, Everard Read, Cape Town, South Africa
2006
Zwelethu Mthethwa / Beezy Bailey collaboration work acquired by the Kunsthal, Vienna
A collection of 45 retrospective paintings were acquired by the Ojai Valley Museum in California, USA
2005
Solo, Everard Read Johannesburg, South Africa
2005/4
Collaboration with Zwelethu Mthethwa, Prague Biennale, Czech Republic
2004
Solo, Everard Read Johannesburg, South Africa
Solo, Knysna Fine Art, South Africa
2002
Curated the "Art for Aids orphans" auction for November
Photographic collaboration with Zwelethu Mthethwa
Vanessa Branston commission - statues and mural in the UK
Ongoing exhibition of graphic works and water colours at the Art Factory and Shop
2000
Back to the Drawing Board, Pa Kua Gallery, Cape Town. One-person exhibition of ink-on-paper life drawings with live drawing performance on opening night
1999
Abakwetha - Farmer, Warrior, Statesman, Intervention, Parliament, Cape Town Part of a public sculpture festival to commemorate Heritage Day. The bronze statue of Boer War General Louis Botha outside Parliament was converted into a Xhosa initiate - wearing a traditional blanket and hat, face painted with white clay. The statue's transformation received extensive international press and TV coverage
Learning to Fly Again, Beezy Bailey Art Factory, Cape Town, South Africa
Lee Ping Zing, Performance at Womad music festival, Benoni, South Africa
1998
Solo exhibition, Beezy Bailey Art Factory, Cape Town, South Africa
Fabric of the People, street fashion show, Beezy Bailey Art Factory, Cape Town, South Africa
Beezy Bailey Art Factory and Shop, Opening in Cape Town, South Africa
Group exhibition, Augsburg, Germany
Driftscapes, Hänel Gallery, Cape Town, South Africa
1997
District Six Sculpture Festival, District Six, Cape Town, South Africa
1996
Through the Looking Glass, Jibby Beane Gallery, London, UK
1995
Collaboration with David Bowie, London and New York, UK and US
Exquisite Corpses, Chelsea Gallery, Cape Town, South Africa
1994
Vote for South Africa, South African Association of Arts Performance work to mark the first democratic elections in South Africa
A solo show of etchings produced in collaboration with various South African artists including Barend de Wet, Billy Mandindi and Norman Catherine

1993
Two Collaborations: South African Association of Arts, Cape Town. Beezy exhibited concrete sculptures made in collaboration with Koos Malgas (assistant to Helen Martins at the world-renowned Owl House sculpture garden in the Karoo) and painted photographs in collaboration with Adam Letch
The Incisive Eye, Group show, Arts Association of Bellville, Cape Town, South Africa
The Cape of Great Hope, Group show, Visual Arts Foundation, Johannesburg, South Africa
Made in Wood, Group show, South African National Gallery, Cape Town, South Africa
1992
Landscapes, Exhibition with two artists at The Art Scene, Cape Town, South Africa
1991
New Directions, Group exhibition of sculpture, Center for African Studies and Michaelis School of Fine Art, University of Cape Town, South Africa
1989
Artist in residence, South African National Gallery, Cape Town, South Africa
1988
Harbour Paintings, One-person show, The Art Scene, Cape Town, South Africa
Introducing Beezy Bailey, One-man show, Vanessa Devereux Gallery, London, UK
1987
Landscapes from France and Namibia, Exhibition with two other artists, Karen McKerron Gallery, Johannesburg, South Africa
Standard Bank Drawing Exhibition: Group show, South Africa
1986
First one-man exhibition, Art Show Gallery, London, UK
International Contemporary Art Fair Olympia, London, UK

COLLECTIONS

Beezy's work is represented in the South African National Gallery and numerous private collections in South Africa, the United Kingdom and the United States including:

Absa, South Africa
Bidvest, South Africa
Bzw Bank London, London, England
David Bowie Art Collection, London, England
Durban Art Gallery, South Africa
Getty Family Collection, USA
Investec, South Africa
Iziko South African National Gallery
Oppenheimer Art Collection, California, USA
Sasol, South Africa
Standard Bank Collection, South Africa