BIOGRAPHY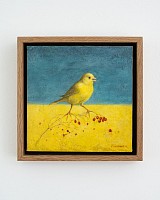 CLAUDE JAMMET
(b. 1953, Zimbabwe)

Born in Zimbabwe of French parents, Claude Jammet grew up in Kenya, India, Japan, in addition to long sojourns in France, before settling in South Africa where she began her career as a professional painter. Over the past two decades Jammet has lived and worked in Genoa, Italy.
As an artist, Jammet is completely self-taught. Painting for her is a requirement; the chosen means by which to communicate her experience of the world. Over a career spanning more than four decades, her work has made reference to the perfection of nature and man, from whichever culture. Her subject matter has encompassed portraiture but also still lifes and the quotidian. Giving her attention to people and objects, it seems, is a way of carrying with her beloved people, places and things, recording traces of her roots and offering a meditation on the fleeting and transient nature of all things.
Jammet has held some 20 solo exhibitions as well as group shows in galleries across South Africa, Europe and Japan. Her work is held in numerous private and corporate collections in South Africa and across Europe.
SOLO EXHIBITIONS
2022
CLAUDE JAMMET | WEATHER VEIN, Everard Read, London, UK
2018
Claude Jammet: Bestiary / Anthropocene, Everard Read, London, UK
SELECTED EXHIBITIONS
2022
Winter 2022|23, Everard Read, London, UK
2021
Summer 2021, Everard Read, London, UK

2020
Winter 2020, Everard Read, London, UK
Against Interpretation, Everard Read, London, UK

2019
SUMMER, Everard Read, London, UK
Southern Aspect - A Group Exhibition, Everard Read, London, UK

2018
Claude Jammet: Bestiary / Anthropocene, Everard Read Gallery, London, UK
2014
Claude Jammet: CULTUS, CIRCA Gallery, Johannesburg, South Africa
2011
Beyond the Garden, Knysna Fine Art, Knysna, South Africa
2010
Oltre il Giardino, Galleria Cristina Busi, Chiavari, Italy
Fair Spezia Art Fair, Galleria Cristina Busi, La Spezia, Italy
2009
Hortus Conclusus, Galleria Davico, Turin, Italy
2008
Rosso, Galleria Cristina Busi, Chiavari, Italy
2006
Fair Lineart, d'Haudrecy Art Gallery, Ghent, Belgium
Quotidiana, Galleria Cristina Busi, Genova, Italy
Quotidiana, d'Haudrecy Art Gallery, Knokke Zoute, Belgium
Baths, Everard Read Gallery, Johannesburg, South Africa
Fair Arte Genova, Galleria Cristina Busi, Genova, Italy
2005
Fair Arte Genova, Galleria Cristina Busi, Genova, Italy
Il Basilisco/Busi, Genova, Italy
An Invitation to Dinner, Knysna Fine Art, Knysna, South Africa
2004
Fair Lineart, d'Haudrecy Art Gallery, Ghent, Belgium
2 person with Aron Demetz, d'Haudrecy Art Gallery, Knokke Zoute, Belgium
Galleria Cristina Busi, Chiavari, Italy
2003
Fair Lineart, d'Haudrecy Art Gallery, Ghent, Belgium
Children, d'Haudrecy Art Gallery, Knokke-Zoute, Belgium
Old Mutual for NSPCC, K.F.A. with Simon Mee Gallery, London, UK
Mostra n° 200, Galleria Busi, Chiavari, Italy
2002
Proposte, Galleria Forni, Bologna, Italy
Proposte, Galleria Busi, Sestri Levante, Italy
Natura morta, Galleria Busi, Sestri Levante, Italy
Natura morta, Galleria Busi, Chiavari, Italy
2001
Figurazione, Galleria Forni, Milano, Italy
Fair Art marché France Japon, Osaka, Japan
Proposte, Galleria Forni, Bologna, Italy
Innocents II, Knysna Fine Art, Knysna, South Africa
2000
Spartito, Galleria Busi, Chiavari, Italy
Innocents, Knysna Fine Art, Knysna, South Africa
1999
Eden, Knysna Fine Art, Knysna, South Africa
Still Life, Nederberg Arts Festival, Knysna, South Africa
1998
A Sense of Place, Old Gaol Gallery, Knysna, South Africa
Opening Exhibition, Knysna Fine Art, Knysna, South Africa
Garob, Knysna Fine Art, Knysna, South Africa
Aardklop National Fine Arts Festival, Potchefstroom, South Africa
1997
Group with G. Jones & D. Poynton, Old Gaol Gallery, Knysn,a South Africa
This Species is Amusing Itself to Death, Knysna Nature Conservation
Christmas Exhibition, Old Gaol Gallery, Knysna, South Africa
Knysna Artists, BCI Fine Art, Johannesburg, South Africa
Association of Arts, Pretoria, South Africa
1996
Crucible, Old Gaol Gallery, Knysna, South Africa
1995
Saltimbaques, Knysna, South Africa
1993
Design for living fair, Lookout Gallery, Johannesburg, South Africa
1992
Design for living fair, Lookout Gallery, Johannesburg, South Africa
1991
Design for living fair, Lookout Gallery, Johannesburg, South Africa
Chelsea Gallery, Cape Town, South Africa
1990
Survival, The Directors' Collection, Johannesburg, South Africa
1989
In Company of Wolves, The Lookout Gallery, Plettenberg Bay, South Africa
1988
The Rembrandt Van Rijn Arts Festival, Cape Town, South Africa
1987
The Standard Bank National Arts Festival, Grahamstown, South Africa
Annual Wildlife Exhibition, The Everard Read Gallery, Johannesburg, South Africa
1986
Plettenberg Bay Arts Association, Plettenberg Bay, South Africa
The Actors, The Crake Gallery, Johannesburg, South Africa
1985
Annual Wildlife, The Everard Read Gallery, Johannesburg, South Africa
1984
Rooi Dak, The Lookout Gallery, Plettenberg Bay, South Africa
Comores, The Tait Gallery, Knysna, South Africa
1983
The Bitou Gallery, Knysna, South Africa
Knysna Story, The Tait Gallery, Knysna, South Africa
1982
Carlton Hotel Gallery, Johannesburg, South Africa
1980
The Crake Gallery, Johannesburg, South Africa
1975
Madden International Galleries, Johannesburg, South Africa
1974
Madden International Galleries, Johannesburg, South Africa
COLLECTIONS
The Sasol Collection, South Africa
The Sanlam Bank Collection, South Africa
Minorco Luxembourg, Lichtenstein
IBM, South Africa
Sun International, South Africa
Kirstenbosch, South Africa
Commerzbank, Germany
The Everard Read Gallery, Cape Town, South Africa
Watersedge Trust, South Africa
A.D.M, Germany
First National Bank, South Africa
THEATRE & FILM (produced and directed by Claude Jammet)
1995
Rite of Passage
1990
Mockingbird
1989
Sacrifice
1987
Carmen
1986
Caliban
BOOKS
1998
A Dictionary of South African Artists published by The Everard Read Gallery
1994
Wie Noah Gerettet Wurde with German children's author, Willi Fahrmann
1990
Survival, The Directors' Collection, Volume II