BIOGRAPHY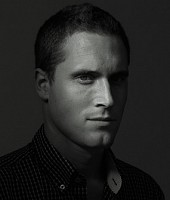 DANIEL NAUDÉ
(b.1984, Cape Town, South Africa)

Naudé was born in 1984 in Cape Town, where he continues to live. He graduated with a BA Visual Arts Honours degree from the University of Stellenbosch in 2007.
Naudé has had solo exhibitions at Stevenson Cape Town and Johannesburg (2011, 2010 and 2014) and showed selected photographs from Animal Farm in the print room at The Photographers' Gallery in London in 2013. Group shows include Chroma (Cape Town) and The Loom of the Land (Johannesburg), at Stevenson in 2014 and 2013; In Focus: Animalia at the J Paul Getty Museum, Los Angeles (2015); Lyon Biennale, La vie modern (2015); Joseph Walsh, Johannes Nagel and Daniel Naudé at Artists House, New Art Centre, Wiltshire (2014); Apartheid and After at Huis Marseille, Amsterdam (2014); The festival artist at the Aardklop National Arts Festival, Potchefstroom (2012); Neither Man Nor Stone at the Iziko South African National Gallery, Cape Town (2012); Lagos Photo Festival, Nigeria (2011); Bamako Encounters African Photography Biennial, Mali (2011); Greatest Hits of 2007 at the AVA Gallery, Cape Town (2011); Breaking News: Contemporary photography from the Middle East and Africa, works from the collection of the Fondazione Cassa di Risparmio di Modena, in Modena, Italy (2010); and PEEKABOO – Current South Africa at the Tennis Palace Art Museum, Helsinki (2010).
Naudé's first book, Animal Farm, was published by Prestel in 2012, followed by Sightings of the Sacred: Cattle in India, Uganda and Madagascar in 2016, also by Prestel. Naudé took part in the Fall 2011 residency programme at Anderson Ranch in Aspen, Colorado.
SELECTED EXHIBITIONS

2019
Unseen: 35 Years of Collecting Photography, J. Paul Getty Museum, Los Angeles, US
Daniel Naude: A Decade of Seeing, Everard Read London, London, UK
2018
A Decade of Seeing: Selected works from (2007-2017), Everard Read Gallery Cape Town, South Africa
A Decade of Seeing: Selected works from (2007-2017), Everard Read Gallery Johannesburg, South Africa
2017
Festival La Gacilly Photo, La Gacilly, France
2016
Unseen Photo Fair, The Photographers' Gallery, Amsterdam, The Netherlands
2015
In Focus: Animalia, J. Paul Getty Museum, Los Angeles, USA
Strange Worlds – works part of the collection of Fondazione Cassa di Risparmio di Moden, Modena, Italy
13th Biennale de Lyon, La Vie Modernelyon, France