BIOGRAPHY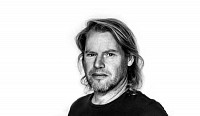 DYLAN LEWIS
(b 1964, South Africa)
Dylan Lewis has emerged as one of the foremost figures in contemporary sculpture. Lewis's work features in private collections throughout the UK, Europe, the United States and Australia, and he is one of only a handful of living artists to have had more than one solo auction with Christie's in London.
Lewis's primary inspiration is the wilderness. At one level his bronze sculptures celebrate the power and movement of Africa's life forms; at another the textures he creates speak of the continent's primaeval, rugged landscapes and their ancient rhythms. He works intensively from life, filling books with sketches, notes and drawings. By referring to these in the solitude of his studio, he is able to reproduce the subject's physical form while exploring their more abstract, deeper meaning.
Lewis is the son of the late well-known sculptor Robin Lewis and comes from an artistic family. His great-grandfather, Thomas Rayfon Lewis, and grandmother, Renee Hughes, were accomplished artists and his mother Valerie and brother Tim are practising artists today.
Dylan has always had a deep and abiding interest in the natural world. He worked at the Rondevlei Nature Reserve, Cape Town, for four years (1985-89). There, amongst other things, he painted the backdrop of the diorama in the Field Museum, illustrated a field guide and worked as a taxidermist. His skill in taxidermy has greatly benefited his painting and sculpting.
In 1989 Lewis studied painting at the Ruth Prowse School of Art under Ryno Swart and began exploring sculpture. In 1990 he spent a year painting and sculpting in the Timbavati Nature Reserve in Mpumalanga. In July 1991 he presented to the AGM of Timbavati two sculptures of rhino, casting a series of thirty editions made available to the landowners of the reserve. He was also commissioned by the reserve to paint their famous white lioness.
Later that year Dylan travelled to Europe studied art in its museums. In 1994 he moved to a farm outside Stellenbosch, where he has built his studio and bronze foundry. He casts his own sculptures in bronze. In 1995, he visited Codova in Alaska to represent South Africa at the "Artists for Nature Foundation Expedition".
Working within a strict self-imposed discipline of direct observation of nature, he immerses himself in his subject, sketching and sculpting ceaselessly. It is this combination of love, truth and hard work that give shape to his powerful evocations of animal form and animal force. Seeking out the presence of the live animal, Dylan says, "I sketch continuously, sometimes for weeks, until an understanding of form and movement emerges, then I sculpt small compositional studies followed by the final sculpture. Under the surface often lie fully sculpted skeleton and muscle studies. The discipline gives me the freedom to concentrate on the abstract sculptural aspects of the work while retaining the animal form."
Of his work Nicholas Hammond, the British author of 'Twentieth Century Wildlife Artists' writes, "Dylan Lewis is a young artist who is showing other artists of wildlife that it is not the detail of the animal that is paramount, but the excitement of being there and sharing the environment with the animal; what he has achieved is impressive."
Dylan has moved onto figurative works in the last few years, achieving the same success as with his much-loved cats. Where does animal-kind end and humankind begin? What of the wild and primitive within? In exploring these tantalising enigmas, Lewis searches wilderness, myth and ancient belief systems for inspiration, meaning and answers.
SELECTED EXHIBITIONS

2020
Bronze, Steel, Stone & Bone, Everard Read, London, UK
2019
SUMMER, Everard Read, London, UK
Southern Aspect, Everard Read, London, UK

2016
Johannesburg Art Fair, featured artist, Everard Read Johannesburg, South Africa
Pastoral Abstraction, Everard Read, Cape Town, South Africa
Bronze, Steel and Stone, Mount Nelson Hotel & Everard Read, Cape Town, South Africa

2015
Cape Town Art Fair, Everard Read Cape Town, South Africa
2014
A Small Collection of Cats, Everard Read Cape Town and Johannesburg, South Africa
Recent Cat Bronzes, John Martin Gallery, London, UK
2013
ARTLONDON13, Everard Read, Johannesburg Booth, London, UK
WWF- Everard Read Johannesburg, South Africa
2012
Summer of Sculpture, Everard Read, Cape Town (Mount Nelson Hotel), South Africa
Delhi Art Fair, India
Intamed - Berkley Square, London in association with Christies South Kensington, South Africa
2011
Recent Works, Everard Read Cape Town & Johannesburg, South Africa
Dylan Lewis, Christie's, London, UK
20 Stellenbosch, Stellenbosch, South Africa
2010
Untamed, Everard Read, Cape Town (at Oude Bank in Stellenbosch) and Kirstenbosch Gardens, South Africa
2009
Solo auction, Christie's, London, UK
Shape Shifting, Everard Read, Cape Town & Johannesburg, South Africa
2007
Everard Read, Cape Town (at L'Ormarins in Franschoek), South Africa
Everard Read, Johannesburg, South Africa
2006
ART LONDON6 Everard Read, Johannesburg Booth, London, UK
2004
ART LONDON4 Everard Read, Johannesburg Booth, London, UK

2003
One man exhibition, Everard Read, Cape Town
ART LONDON3 Everard Read, Johannesburg Booth, London, UK
2001
One man exhibition, Everard Read, Cape Town, South Africa
ARTLONDON2, Everard Read, Johannesburg, South Africa
Everard Read, Johannesburg, South Africa
2000
ARTLONDON1 Everard Read, Johannesburg Booth, London, UK
Toronto International Art & Antiques Fair in association with Miriam Shiell,Texas, USA
Fine Art, Metro Toronto Convention Centre, Toronto, Canada
Dallas International Pavilion, Texas, USA
Dallas International Art & Antiques Fair in association with Miriam Shiell, Texas, USA
Fine Art, Dallas International Pavilion, Texas, USA
1999
ARTLONDON 2000 Everard Read, Johannesburg Booth, London, UK
The Port Captain's Exhibition, Everard Read, Cape Town, South Africa
SELECTED COLLECTIONS
Afrox
Anglovaal
Deutsche Morgan Grenfell
Eskom
Fedlife
First National Bank
HRH The Duke of York
Harvard Capital Management Worldwide
Nissan South Africa
Mr A. Oppenheimer, Mr N. Oppenheimer
Mr C.D. Palmer-Tomkinson
Mr J. Rupert
Mr B. Sangster
Old Mutual Plc
Nelson Mandela
President George Bush USA
Sir Dennis Thatcher
Sir Richard Brooks
Sir Richard Storey
The Earl of Derby