BIOGRAPHY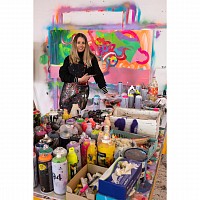 KILMANY-JO LIVERSAGE
(b. 1973, South Africa)
Kilmany-Jo Liversage creates portraits that intentionally blur the boundary between fine art and street art. Her rendering of female subjects is inspired by Renaissance-era portraiture and, by adopting the language of graffiti or urban art, she updates, renews and challenges the conventions of painting. Her work also references digitised mass production and a futuristic post-human world, populated by perfect-looking female cyborgs. The result is a series of vivid, large-format paintings, evoking the street, art history as well as a vision of the future.
Liversage explains further: "During the Machine Age, artists would reduce their compositions to its smallest constituent parts. With my current paintings, I manufacture this deconstruction by combining the painting tradition of portraiture with idiosyncrasies from the urban culture of tagging. This enables me to explore the intersection between street art and fine art while reconstructing them into a new genre of portraiture."
With a list of achievements that includes the Sasol New Signatures Award in 2000 and a UNESCO bursary in 2005, as well as an artists' residency in Colombia, Liversage has had the opportunity to explore and interpret the concept of street art in a distinctive and original way.
Liversage lives and works in Cape Town, South Africa. Her work is included in several public and private collections in South Africa and around the world.
SOLO EXHIBITIONS
2022
KILMANY-JO LIVERSAGE | ILLUMINA23, Everard Read, London, UK
2021
FERVA21, Worldart, Cape Town, South Africa
Summer 2021, Everard Read, London, UK
2019
FEMFLEKTA619. Worldart, Cape Town, South Africa

2018
Chroma718, Everard Read Gallery, Johannesburg, South Africa
2016
Orda716, Worldart, Cape Town, South Africa
Orda716, Lizamore & Associates, South Africa
2015
Ordamental515, Hay Hill Gallery, London
2014
Obversa714, Worldart, Cape Town, South Africa
Obversa714, Lizamore & Associates, South Africa
2012
Portra, Source 53, Singapore, Singapore
Portra, Artspace gallery, Johannesburg, South Africa
Portra, Worldart gallery, Cape Town, South Africa
2011
Moniker. Worldart, Cape Town, South Africa
2010
Orda 2010, Erdmann Contemporary, South Africa
2009
Symbol of Tribute, Association for Visual Arts, Cape Town, South Africa
2006
Orda 2006, Blank Projects
2003
Orda 2003, Association for Visual Arts, Cape Town, South Africa
SELECTED GROUP EXHIBITIONS
2022
Summer Exhibition 2022, Everard Read, London, UK

2021
Summer 2021, Everard Read, London, UK
2020
Against Interpretation, Everard Read, London, UK

2019
Southern Aspect - A Group Exhibition, Everard Read, London, UK
2011
Tattoo Convention, Word of Art, Woodstock, Cape Town, South Africa
2010
Creative Context: A Group Show by Contemporary African Fine Artists, Singapore, Singapore
2010
World Aids Congress – Vienna, Brussels, Belgium
Matters Conceptually, Erdmann Gallery, Cape Town, South Africa
2005
Graffiti is Public Art, Jardin Botanical Garden, Medellin, Colombia
2004
Spier Outdoor Sculpture Biennale 2004, Stellenbosch, South Africa
EDUCATION
1997
B.Tech Fine Arts, Free State Technikon
1994
H.Dip Fine Arts. Free State Technikon. Received a distinction in Painting
COMPETITIONS & AWARDS
2013
Back 2 back to Biennale, 55th Venice Biennale, Venice, Italy
2005
UNESCO Aschberg Bursary, Paris, France
2004
Spier Arts Trust, Spier Sculpture Biennale, South Africa
2000
SASOL New Signatures Art Competition, Stellenbosch, South Africa
1995
Coca-Cola Bursary
1994
Distinction-H.Dip FA (Painting)
ARTIST RESIDENCY
2005
UNESCO Asch erg-Medellin, Colombia, South America WORKSHOPS (GRAFFITI)
Centro Colombo Americano. Paul Bardwell Contemporary Gallery of Modern Art – Medellin, Colombia
University of Bolivariana, Department of Graphic Design, Colombia

COLLECTIONS
Nando's collection
Department of Science and Technology, Pretoria, South Africa
Absa Bank Art Collection, South Africa
Centro Colombo Americano. Paul Bardwell Contemporary Gallery of Modern Art – Medellin, South America
Comfandi Centre-Cali, Colombia