BIOGRAPHY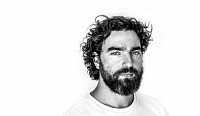 LIONEL SMIT
(b.1982, South Africa)

Lionel Smit is best known for his contemporary portraiture executed through monumental canvases and sculptures. Perhaps more than anything else, Smit's work is defined by a profound and ongoing dialogue between sculpture and painting.
A multidisciplinary artist, each of Smit's works offers us an entry point into the variety and richness that lies beneath every face we encounter in life, whether applied in bronze or in paint. While retaining their austerity and meditative aesthetic, Smit's figures remain highly charged with the emotive and gestural energy of his creative process.
Smit's paintings begin with abstract lines and swathes of colour that establish a foundation for the subsequently overlaid image of a face or bust – in most cases of anonymous models from the Cape Malay community. For Smit, the Cape Malay woman epitomises hybrid identity within a South African context and reflects the fragmentation of identity within our increasingly globalised world.
Smit's bronzes are created using the lost wax casting method. Patinas commonly available to artists working in bronze include natural browns, blacks and greens. However, given the importance of colour to Smit, he uses alternative methods that result in a unique fusion of intensely saturated patinas. Brilliant streaks of blues and greens enrich the grooves of an ear, while the natural shadow of an eyelid is intensified by the deepening of rich black patinas. Smit's ability to manipulate the patination process, coupled with his focused enthusiasm for surface gradations, has allowed him to consistently push boundaries.
Based in Somerset west, Cape Town, Smit's process as an artist today remains adaptive, inventive, and physically engaging and he has achieved success internationally, from Hong Kong to London and New York.
Smit's painting has been exhibited at the National Portrait Gallery in London where it received the Viewer's Choice Award, as well as selected as the 'face' of the BP Portrait Award 2013. In 2016, Smit, in collaboration with Cynthia-Reeves Gallery, installed a public art installation, 'Morphous', in New York's Union Square. He received a Ministerial Award from the South African Department of Culture for Visual Art.
Over the past 10 years Smit has established a substantial international following with collectors ranging from the Standard Chartered Bank to Laurence Graff Art Collection at Delaire Graff Wine Estate.
Upcoming Exhibition | March 2024 | REGISTER INTEREST
SELECTED SOLO EXHIBITIONS
2023
Exposure, Everard Read, Cape Town, UK
2021
Prelude, Everard Read, London, UK
2020
Suspended, Everard Read, Franschhoek, South Africa
Verso, Everard Read, Cape Town, South Africa
Reposition, Uitstalling Gallery, Ghent, Belgium
2019
Destructure, Everard Read, London, United Kingdom
Manipulated Image, Everard Read, Johannesburg, South Africa
2018
Obscura, Museum of Contemporary Art, Miami, USA
Divide, Art|Life Gallery, Los Angeles, USA
2017
State, Everard Read Gallery, Johannesburg, South Africa
Emerge, M Contemporary, Sydney, Australia
Faces of Identity, Everard Read, London, UK
Premise, Everard Read, Cape Town, South Africa
2016
New Work, Rook & Raven Special Project Space at Armory Art Fair, New York City, USA
Didrichsen Art Museum, Helsinki, Finland
Morphous, installation in Union Square, New York, USA
Echo, Cynthia-Reeves Gallery, Massachusetts, USA
Trace, Rook & Raven, New York, USA
2015
FNB Joburg Art Fair, Everard Read booth, Johannesburg, South Africa
Close/ Perspective, Everard Read Johannnesburg, South Africa
Origins, Rook & Raven, London, UK
Recurrence, M Contemporary, Sydney, Australia
Obscura, Everard Read Cape Town, South Africa
Accumulation of Disorder installation, Independent Art Projects, MASS MoCA Campus, USA

2014
Morphous, CIRCA, Johannesburg, South Africa
Cumulus, Rook & Raven, London, UK
Contronym, Cat Street Gallery, Hong Kong

2013
Art Miami Fair, featured artist, Cynthia Reeves, Miami, USA
IS Sculpture, IsArt, Tokara, Stellenbosch, South Africa
Strarta Art Fair, Saatchi Gallery, Rook & Raven, London, UK
Fragmented, Rook & Raven, London, UK
100 Accumulation, Everard Read, Johannesburg, South Africa
Wonder Works Exhibition, The Cat Street Gallery, Hong Kong
2012
Compendium, 34FineArt, Cape Town, South Africa
Strata, Rook and Raven, London, UK
2011
Surface, Artspace, Johannesburg, South Africa
2010
Submerge, 34FineArt, Cape Town, South Africa
2009
Relate, Grande Provence, Franschhoek, South Africa

SELECTED GROUP EXHIBITIONS
2022
SUMMER SCULPTURE EXHIBITION|RIVERHILL GARDENS, Riverhill, UK
Winter 2022|23, Everard Read, London, UK
2021
Summer 2021, Everard Read, London, UK
Winter 2021|22, Everard Read, London, UK
2020
Bronze, Steel, Stone & Bone, Everard Read, London, UK
Staring Straight to the Future, online exhibition, Everard Read, UK & South Africa
Masterpiece online, with Everard Read, London, UK
2019
Winter, Everard Read, Cape Town, South Africa
Art Central Fair, with M Contemporary, Hong Kong
CONTEXT Art Miami, with Everard Read, Miami, USA
2018
Winter, Everard Read, Cape Town, South Africa
Sydney Contemporary, with M Contemporary, Sydney, Australia
2017
Exposed, Helen Day Art Center, Vermont, USA
Art Miami, Cynthia-Reeves Gallery, Miami, USA
Art Central, M Contemporary, Hong Kong
2016
Opening Gallery Exhibition, Everard Read London, UK
Investec Cape Town Art Fair, Everard Read booth, Cape Town, South Africa
2015
Bronze, Steel & Stone, Everard Read, Johannesburg, South Africa
FNB Joburg Art Fair, Everard Read Gallery Booth, Johannesburg, South Africa
Art Miami Fair Featured Artist, Cynthia Reeves Gallery, USA
2014
Summer Season, Everard Read Gallery, Cape Town, South Africa
Art Taipei, Cat Street Gallery, Taiwan
Fugitive Identity, Cynthia Reeves, USA
2013
BP Portrait Award Exhibition, Viewer's Choice Award , National Portrait Gallery, London, UK
Metal Work Public sculpture, Stellenbosch, South Africa
2012
Accumulation of Disorder, University of Stellenbosch Gallery, Stellenbosch, South Africa
Winter, Everard Read, Johannesburg, South Africa
Robert Bowman Gallery, India Art Fair, India
Joburg Art Fair, Everard Read Gallery Booth, Johannesburg, South Africa
2011
34FineArt, ArtMonaco '11, Monaco
MOMAC, Group Exhibition, Roberta Moore Fine Art, England
2010
Out of the Office, Kunstmuseum Bochum, Germany
Cynthia Reeves Projects, Art Miami, USA
We are not Witches, Saatchi Gallery, London, UK
2009
F.A.C.E.T., Charity Auction, Christie's, London, UK
AWARDS
2013
Visitors' Choice Award, PB Portrait Award, National Portrait Gallery, London, UK
Ministerial Award from Department of Culture for Visual Art, Western Cape Government, South Africa
2009
Merit Award, Vuleka, Sanlam Art Competition, Cape Town, South Africa
2008
Achievement Award, Pro Arte School of Arts, Pretoria, South Africa
2000
First prize in the MTN Art Colours Awards of Gauteng, South Africa
1999
Best painting student Pro Arte School of Arts, Pretoria, South Africa
SELECTED CORPORATE COLLECTIONS
Delaire Graff Wine Estate, South Africa
Ellerman Contemporary, South Africa
European Investment Bank, South Africa
Grainvest Futures, South Africa
Johannesburg City Council, South Africa
Johann Jacobs Museum, South Africa
Laurence Graff Collection, South Africa
Parkdev, South Africa
Rand Merchant Bank, South Africa
Saronsberg Wine Estate, South Africa
South African Embassy, Nigeria
Standard Chartered Bank, South Africa