BIOGRAPHY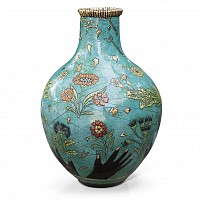 LUCINDA MUDGE
(b. 1979, Knysna, South Africa)


Lucinda Mudge is a contemporary South African artist working primarily in the medium of ceramics. After graduating from the Michaelis School of Fine Art, University of Cape Town (1997-2000), she spent the following years between Cape Town and the UK before moving to Keurboomstrand, Plettenberg Bay, where she now lives and works.
Lucinda Mudge's extraordinary vases captivate the eye with their rich colours and intricate detail. Yet beneath their glimmering surfaces is a world simmering with paranoia and tension.
A Lucinda Mudge vase encompasses all of life. Its form and content come together in a singular unity that celebrates our abundance and possibilities. It also exists in the world as a three-dimensional object; it can't be taken in at a single glance, but must be circumnavigated until it reveals all its contradictions and riddles. Themes, images and text are replayed and reshuffled, embodying in their very fabric, humanity's ability to carry contradictory impulses.

Lucinda Mudge has work in major corporate and private collections nationally and internationally, including the United Kingdom, Australia, Guernsey, the Netherlands, Italy and Russia.
SOLO EXHIBITIONS
2017
The Wolf Is Always Near, Everard Read Gallery, London, United Kingdom
Solo Exhibition, Everard Read Franschhoek, South Africa
2016
New Work, Agapanthus, Cape Town, South Africa
Kill You Eat You, Circa on Jellicoe, Johannesburg, South Africa
2015
Take What You Want, Knysna Fine Art, Knysna, South Africa
2014
Lasers in The Jungle, The Gallery at Grande Provence, Franschhoek, South Africa
2013
The White Tiger and Other Stories, Knysna Fine Art, Knysna, South Africa
GROUP EXHIBITIONS
2017
Cape Town Art Fair, Everard Read Gallery, Cape Town, Cape Town, South Africa
MAKING AFRICA, Kunsthal Rotterdam, Rotterdam, Netherlands
2016
1:54 Art Fair London, Everard Read Gallery, London, United Kingdom
VASE - Function Reviewed, National Craft Gallery, Kilkenny, Ireland
FNB Johannesburg Art Fair, Everard Read/Circa Gallery, Johannesburg, South Africa
MAKING AFRICA, CCCB Barcelona, Spain
Transmutation, Knysna Fine Art, Knysna, South Africa
2015
MAKING AFRICA, Guggenheim Bilbao, Spain
MAKING AFRICA, Vitra Design Museum, Weil am Rhein, Switzerland
KKNK, Oudshoorn, South Africa
PUBLICATIONS:
Making Africa - A Continent of Contemporary Design, (2015) edited by Mateo Kries, Amelie Klein
The Bauhaus: #itsalldesign, published by Vitra Design Museum, edited by Mateo Kries, Jolanthe Kugler (2015)
VASE: Function Reviewed, by Brian Kennedy, Kilkenny Arts Festival, Ireland (2016)