BIOGRAPHY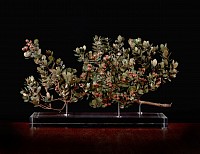 NIC BLADEN
(b. 1974, South Africa)

Nic Bladen has become known for his extraordinary botanical sculptures which celebrate the subtle and diverse beauty of the plants that grace his native Western Cape, South Africa. Bladen has pioneered a way of developing perfect castings of organic matter to preserve or fossilize plants and flowers. Using the ancient lost wax method, Bladen makes molds from organic material, and then transforms these into unique sculptures of entire plants.
Bladen's first solo exhibition, Peninsula, at Everard Read Gallery Cape Town in 2013, focused on the richness of botanical diversity that surrounds the artist's Simons Town studio, which is situated within the heart of the Cape Floral Kingdom, the smallest yet richest of the world's six floral kingdoms. For this show, concessions from landowners on the peninsula enabled Bladen to harvest several rare species.
In 2015, Bladen worked as Artist in Residence at Tswalu Kalahari, a private nature reserve in South Africa's Northern Cape Province. The sculptures that he created during this time - a depiction of iconic, beautiful and strange Kalahari Desert plants and trees - formed his second solo exhibition: Kalahari: a season at Tswalu, at Everard Read Johannesburg in October 2015.
A 2017 collection of work was shown at Everard Read Johannesburg depicting the tenacity of Cape plants to flower, despite the harsh conditions endured during the current drought. In 2018, he had his first solo exhibition at Everard Read in London. His solo exhibition at Everard Read Cape Town in 2018 focused exclusively on the Proteaceae family of plants.
Bladen's unique works can be found in the Standard Bank, Ellerman House and Oppenheimer collections in South Africa, as well as in many other private collections around the world.
SOLO EXHIBITIONS
2021
Botanical Studies in Bronze & Silver II, Everard Read, London, UK
2020
Proteaceae, Everard Read, Cape Town, South Africa
Arid, Everard Read, Johannesburg, South Africa
2018
Botanical Studies in Bronze and Silver, Everard Read, London, UK
2017
Even at this unfavourable dry season, Everard Read, Johannesburg, South Africa
2016
New Works, Everard Read, Johannesburg, South Africa
2015
Kalahari: A season at Tswalu, Everard Read, Johannesburg, South Africa
2013
Peninsula, Everard Read, Cape Town, South Africa
SELECTED GROUP EXHIBITIONS
2022
Winter 2022|23, Everard Read, London, UK
2021
Masterpiece Online 2021, Everard Read, London, UK
Winter 2021|22, Everard Read, London, UK
2020
Bronze, Steel, Stone & Bone, Everard Read, London, UK
Staring Straight To The Future, Everard Read, London, UK
Summer 2020, Everard Read, London, UK
Masterpiece Online 2021, Everard Read, London, UK
Us, Everard Read, London, UK
2019
Masterpiece Art Fair London, Everard Read booth, London, UK
Southern Aspect, Everard Read, London, UK
Summer Exhibition, Everard Read, London, UK
2018
FNB Joburg Art Fair, Everard Read CIRCA booth, Johannesburg, South Africa
Winter Exhibition, Everard Read, London, UK
2017
Off the wall: A group sculpture exhibition, Everard Read Gallery, Johannesburg, South Africa
2014
Exact Imagination: 300 years of botanically inspired art in South Africa. Curated by Cyril Coetzee. The Standard Bank Gallery, Johannesburg, South Africa
Design Miami/Basel 2014, Southern Guild Collection, Basel, Switzerland
2012
Conversation Series, with Astrid Dahl, Jane Eppel and Katherine Glenday, Amaridian Gallery, New York, USA
SOFA (International Exposition of Sculpture Objects and Functional Art), with Amaridian Gallery, New York, USA
2011
Rare, joint show with Lisa Strachan at Everard Read, Cape Town, South Africa
Natural Selection, joint show with Jane Eppel at Rust en Vrede Gallery, Durbanville, South Africa
2010
SOFA (International Exposition of Sculpture Objects and Functional Art), Amaridian Gallery, Chicago, USA
2009
Realisme, Art Fair, Amsterdam, Netherlands
2008
Group Exhibition at KZNSA Gallery, Durban, South Africa
2007
Greenhouse, group exhibition at Bell-Roberts Gallery, Lourensford, South Africa