BIOGRAPHY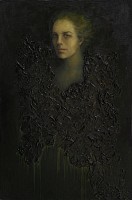 SHANY VAN DEN BERG
(b. 1958 Riversdale, South Africa)
Shany van den Berg's practice centres on contemporary portraiture and figurative work, with an underlying theme of womanhood. Her ethereal oil paintings evoke the mood and texture of Old Master paintings, conveying complex emotions, moods and ideas through meticulous attention to detail, an extraordinary facility with paint and subtle symbolism.
Van den Berg's portraiture is most often of women, whose features morph into a composite of the artist and her loved ones, serving as portals to narratives of sacrifice, struggle and ultimately transcendence. The references are delicate and ambiguous: a nude atop a gallery plinth is transposed from stone into flesh and blood, or vice versa; a sheet draped, shroud-like, across an ethereal form emerging from or entering an abyss; hands depicted in gestures of supplication, prayer, self-protection or release; a red scarf or fragile scarlet thread seeming almost to flutter across and beyond the canvas.

A sense of layering pervades her works, in the imagery itself and through Van den Berg's painterly process. Surfaces are built up of swathes, not painted onto the board but rather, absorbed into it. Shadows are imbued with texture and skins exude an almost viscous sheen. Although unmistakably feminine, some of her forms evoke a sense of animalism through their attenuated bone structure, and an underlying sexuality pervades many of the forms. They suggest recognition, confirmation and the bittersweet knowledge of love, loss and letting go.

Van den Berg has worked as a full-time artist for almost thirty years. Her practice includes painting on board, linen and found objects, drawing, sculpture, site specific installations, mixed media, three-dimensional work as well as poetry and music.
Van den Berg is a three-time finalist in the BP Portrait Award at London's National Portrait Gallery. Her work is represented in private collections in the UK, South Africa, France, Germany, Luxembourg, Caymen Islands and the U.S.A
SELECTED SOLO EXHIBITIONS
2022
SHANY VAN DEN BERG: Nos / Us, Everard Read, Cape Town, South Africa
SHANY VAN DEN BERG / Her Garden, Everard Read, London, UK

2021
NOS, Everard Read, Cape Town, South Africa
2019
Dream Pond, Everard Read, London, UK
2018
FLUISTERINGE VANAF 'N LELIEPOEL/ WHISPERS FROM THE LILY POND, Everard Read, Franshhoek, South Africa
2017
(in)filtration of time, CIRCA gallery, Cape Town, South Africa
2015
New works, Everard Read gallery at La Grande Provence , Franschhoek, Western Cape, South Africa
2012
Hinterland, Everard Read, Johannesburg, South Africa
2011
Siel van my Vel, Everard Read, Cape Town, South Africa
2010
Solo, IS Art at Le Quatier Francais, Franschhoek, South Africa
2008
in gesprek met, Smellick &Stokking, Den Haag, Netherlands
2007
..(h)erken...ken...en... , Everard Read, Cape Town, South Africa
gedagtes wat reis, My Own Choice Gallery, Amsterdam, Netherlands
2006
dwaaltuin, Grande Provence Gallery, Franschhoek, South Africa
2003
construction site, Limeline Design, Cape Town, , South Africa
2001
vlug in tyd, Dorp Street Gallery, Stellenbosch, South Africa
1999
my shadow, my echo, me, Bang the Gallery, Cape Town, South Africa

SELECTED GROUP EXHIBITIONS
2019
Winter, Everard Read, Cape Town, South Africa
Southern Aspect, Everard Read, London, UK
2018
Winter, CIRCA, Cape Town, South Africa
People and Portraiture, CIRCA, Cape Town, South Africa
Summer, Everard Read, London, UK
Winter, Everard Read London, UK
2017
Summer, Everard Read, London, UK
Winter, CIRCA, Cape Town, South Africa
Summer, Everard Read, Franschhoek, South Africa
2016
Summer, Everard Read, London, UK
Opening Group Exhibition, CIRCA Gallery, London, UK
Winter, Everard Read, Cape Town, South Africa
2015
Homage, Everard Read, Cape Town, South Africa
Winter, Everard Read, Cape Town, South Africa
2014
Summer Season, D-Street Gallery, Stellenbosch, South Africa
Summer of Sculpture III , Mount Nelson Hotel, Cape Town, South Africa
Magicus, D-Street Gallery, Stellenbosch, South Africa
2013
Cape Town Re-Imagined, Suidoosterfees, Cape Town, South Africa
100, Everard Read, Cape Town, South Africa
Universal Suffering, War Museum, Bloemfontein, South Africa
Femininity, curated by Eva Roer, Germany
SAADA Antique Fair, Pier Rabe Antiques, Franschhoek, South Africa
Hiernamaals/Hereafter, Slee Gallery, Stellenbosch, South Africa
Binnehemels, Red, Black & White, Stellenbosch, South Africa
2012
Small Works, Everard Read, Cape Town, South Africa
A Summer of Sculpture, Mount Nelson, Cape Town, South Africa
2009
halfmens / heelmens, Red, Black & White Gallery, Pier Rabe
Sex, Power, Money, Everard Read, Cape Town, South Africa
2008
Confluence, Everard Read, Cape Town, South Africa
2006
Small works, Everard Read, Cape Town, South Africa
Shany van den Berg / Strijdom van der Merwe, Grande Provence Gallery, Franschhoek Cape Town, South Africa
2005
Three, trio, Everard Read, Cape Town, South Africa
2000-2002
Shany van den Berg/Alex Hamilton, Bang the Gallery, Cape Town, South Africa
2000
A Celebration of Art & Technology, in aid of the Nelson Mandela Childrens Fund, sponsored by Hewlett Packard, South Africa

COMPETITIONS & PROJECTS

2021
Sanlam Portrait Award Top 40
2019
Sanlam Portrait Award, South Africa

2016
BP Travel Award Finalist, National Portrait Gallery, London, UK
Art Patron of MAD Leadership Foundation
2013
Fellowship granted by the Ampersand Foundation, New York
2011
Bright Ideas Ceramic art / Light from Africa Foundation, Cape Town, South Africa
2010 & 2009
BP Award Portrait Gallery London / finalist

2008
Art exchange / Hubei Institute of Art, China
Artfair Utrecht / My Own Choice
2007
AAF Amsterdam / My Own Choice
2005
Sasol New Signatures / finalist
1990
Corobrick Ceramic Competition Cape Town / finalist