BIOGRAPHY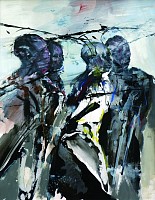 FRANTA
(b. Trebic, Moravia, Czechoslovakia, 1930)
Franta is an internationally renowned French artist and sculptor, born in Czechoslovakia.
Franta studied at The Academy of Fine Arts in Prague before fleeing his homeland in 1958 to live and work in France. The sense of exile and the early encounter with human suffering continues to permeate his work.
Over a career spanning more than six decades, Franta has travelled extensively and his experiences in Africa in particular have had a profound effect on his work.
The body is always at the centre of his practice and his paintings and sculpture obsessively interrogate the human condition through the filter of his own life's experiences and bearing witness to others' lives. As such, his work is suffused with compassion and generosity. It also transmits an intense physicality and vibrates with the artist's own vital energy.
In addition to numerous gallery exhibitions around the world, Franta has held solo exhibitions in museums across Europe and the USA:
Museum Exhibitions
PARIS , Musée Galliera /
NICE, Centre National d'Art Contemporain – Villa Arson
ANTIBES, Musée Picasso
MENTON, Musée de la Ville
CANNES, Musée de la Castre
DUNKERQUE, Musée d'art contemporain
GRENOBLE, Musée de la Peinture
GRENOBLE – LA TRONCHE, Musée Hébert / NICE, Musée d'art moderne et contemporain
MENTON, Palais de l'Europe
BEZIERS, Musée Riquet
MONTBARD, Musée-site Buffon
CAGNES- SUR-MER, Musée-Château Grimaldi.
BOCHUM, Kunst Museum / DETMOLD, Lippische Gesselschaft fur Kunst.
PRAGUE, Musée Tchèque d'arts plastiques
TREBIC, Malovany dum
CESKY KRUMLOV, Egon Schiele Art Centrum
BRNO, Musée de la Ville – Spilberk
PRAGUE, Museum KAMPA
PRAGUE, Nova Sin.
NEW YORK- BRONX, Bronx Museum of Art
MILWAUKEE. WI, Haggerty Museum of Arts.
Monographs
FRANTA / par Bernard NOEL, Editions MAGE Publisher Inc , Washington DC, 1987 avec le concours du Ministère de la Culture( FIACRE).
FRANTA / par Evelyne ARTAUD, Editions Cercle d'Art, Paris 2001 – Collection Le Pré.
FRANTA / par Jean-Luc CHALUMEAU, Editions Somogy, Paris 2009. FRANTA / par Jan KRIZ, Editions GALLERY, Prague 2009.