BIOGRAPHY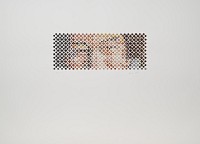 BONITA ALICE
(b. 1962, Johannesburg, South Africa)
Bonita Alice studied at the University of the Witwatersrand and the University of Cape Town in South Africa and taught in several Fine Art Departments until 2003. She spent 12 years in London before moving back to South Africa in 2020.
Alice's studio practice reflects her interest in animal studies, a growing, global, cross-disciplinary field in which attempts are made to better understand human and animal relationships. Alice is particularly interested in aspects within psychology and psychoanalysis which she believes are useful in understanding the abuse of animals and the environment.
"My practice reflects my preoccupation with the crisis of our age … environmental degradation and our apparent inability, as a species, to properly register our role in it; to act to rescue the situation and ultimately, ourselves. My focus has long been with psychological matters and our relationship with other animals. In our resistance to the idea of the suffering and annihilation of other species, despite the intense emotional closeness we share with some of them, I suspect a kind of madness.
Psychology is concerned with the denial or disavowal of internal (or emotional) crises, which, unaddressed, may have external consequences whose effects impact not just ourselves. Many of my works suggest a metaphorical (and, in some cases, a more direct) connection between collective human dysfunction and environmental catastrophe."



SOLO EXHIBITIONS
2015
Strangers of Commanding Aspect, Gallery AOP, Johannesburg, South Africa

2012
Beast In A Dangerous Landscape, Gallery AOP, Johannesburg, South Africa

2010
Beast At Home, Gallery AOP, Johannesburg, South Africa
2007
Anticipated Memory, Gallery AOP, Johannesburg, South Africa
2005
Promised Land, The Premises Gallery, Civic Centre, Johannesburg, South Africa
Promised Land, US Museum and Art Gallery, University of Stellenbosch, South Africa
Promised Land, KZNSA Gallery, Durban, South Africa
2001/2
Giving And Not Giving, Bell-Roberts Gallery, Cape Town, South Africa
Giving And Not Giving, Millennium Gallery, Johannesburg, South Africa
1994
Exhibition of new Sculptural Works, Everard Read Contemporary Gallery, Johannesburg, South Africa

1990
Exhibition of sculpture, Goodman Galleries, Johannesburg, South Africa

GROUP EXHIBITIONS

2022
Jan-Ken Paa/Paper – Studio/Gallery no.3 SPG, Muizenberg, Cape Town

2021
Cubicles Series – Eremocene – Everard Read Cape Town
2020
Against Interpretation, Everard Read, London, UK

2017
Exhibition of new works with Beverley Paton, Creek Creative, Faversham, UK
Summer Salon, Lubomirov Angus-Hughes, London, UK
Antennae, Lubomirov Angus-Hughes, London and Platforms Project, Athen
2016
Dr Dolittle's Daughters, Exhibition with artist, Fiona McDonald, and discussion with Historian, Yvette Gresle, at V22, Louise House, Forest Hill, London
2015
Anonymous Drawings, Galerie Nord | Kunstverein Tiergardten, Berlin, Germany

2015
A5, Art Athina, Athens, Greece, Project by Lubomirov-Easton, London
2014
Jerwood Drawing Prize, UK
2014
A5, Art Athina, Athens, Greece, Project by Lubomirov-Easton, London
2010
Halakasha (Exhibition of Artworks and objects relating to African football), WAM, University of the Witwatersrand, Johannesburg, South Africa
2008
Exhibition of contemporary South African Art, Myerson Fine Art, London, UK
2006
Launch of Johannesburg Art Bank, Johannesburg Art Gallery
Exhibition of 3 artists' work about Johannesburg, Johannesburg Art Gallery, South Africa
2002
Commission of two-part site-specific work entitled Spirit, Sao Paulo Bienal, Brazil
2000
A.R.E.A., Exhibition of Contemporary South African Art, National Gallery of Iceland
1999
The Paper Show, Goodman Galleries, Johannesburg, South Africa
Emergence, 25 Years of South African Art, National Arts Festival, Grahamstown, South Africa
Urban Futures, Museum Africa, Johannesburg
1998
!Xoe Site-Specific, Exhibition of site-specific works, Nieu- Bethesda, South Africa
EDUCATION
2006
CELTA, Cambridge English , Language Certificate (TEFL)
2004
University of the Witwatersrand, Johannesburg, Art Critical Writing module in Masters in Fine Art Program (as occasional student) with Prof. Colin Richards
1993-4
Kim Sacks Ceramic Studios, Johannesburg, 2-year part-time hand-built ceramics course
1990
University of Cape Town, South Africa, Masters in Fine Art – Cum Laude, Sculpture Major

1984
University of the Witwatersrand, Johannesburg, South Africa, Bachelor of Arts in Fine Art Majors, Sculpture and Art History
1979
Hyde Park High School, Johannesburg, South Africa