BIOGRAPHY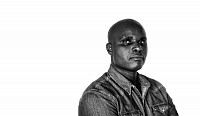 PHILLEMON HLUNGWANI
(b.1975, Limpopo, South Africa)
Phillemon Hlungwani is known for his large-scale charcoal drawings which depict scenes from rural life. Hlungwani has the ability to convey traditional values and a sense of community through the scenes he depicts, which in turn has gained him recognition as one of the most accomplished contemporary artists currently working in South Africa.

Many of his recent drawings draw on proverbs in his first language – xiTsonga – as ­titles. These proverbs may be difficult to translate into English but they communicate an essential moral idea – conveying how members of a particular community are either sustaining or betraying the values of its people. Hlungwani's human figures are inseparable from their environment, although his more recent work has seen the introduction of colour into the clothing of his protagonists help them stand out in all their vibrancy and humanity.

The scenes he depicts are typically full of life and motion – the characters bursting with thoughts, opinions and yearnings, which are communicated further through the arcs and lines that weave the different parts of each drawing together. Everything is connected. There is no distinction between the internal or the external, the animate or inanimate, the material or the spiritual.

As a boy, Hlungwani herded goats and cattle and looked after chickens – and this relationship with the animal world is often present in his work. Trees were a source of shade and food – both for animals and people – as well as providing places for community debates, ceremonies and prayer. Sometimes trees represent human figures, carrying in their roots and leaves and fruit, all that has passed beneath them.

Common throughout his work is Hlungwani's insistence that people living modest lives with few possessions can lead dignified, meaningful lives and be happy. They have places to go and things to do, and they know who they are – where they have come from and where they are going.


SELECTED SOLO EXHIBITIONS
2019
PHILLEMON HLUNGWANI: NTSAKO WA XIBELANI, Everard Read, Johannesburg, South Africa

2018
PHILLEMON HLUNGWANI: Nwansati wa matimba a nga heli mongo, Everard Read, Cape Town, South Africa
2017
Rirandzu Ra Manana / The Love Of Women, Everard Read Gallery, London, UK

2016
From Giyani to Alexandra, Everard Read Gallery, Johannesburg and Grande Provence Gallery, South Africa
2014
Mi Kondzo Ya Tinghawi/In the Footsteps of Heroes, Klein Karoo Nasionale Kunstefees, South Africa
Qunu Drawings, Everard Read Gallery, Johannesburg, South Africa
2013
Cullinan Drawings sponsoed by Petra Diamonds plc, John Martin Gallery, London, UK
2011
New Works, Everard Read Gallery, Johannesburg, South Africa
Solo Exhibition, Knysna Fine Art, Kysna, South Africa
2009
Recent Works, The Irma Stern Museum, Cape Town, South Africa
Tshungulo wuyisiwa e mahlweni (The Healing Process), Everard Read Gallery, Johannesburg, South Africa
2008
Xitsonga I ndzuti wa Xigaza / The Tsonga is the Shadow of Xigaza, ABSA Gallery in Johannesburg, South Africa
2006
Recent Works, The Gallery Premises, Braamfontein, Johannesburg, South Africa
2000 
First one-man show in Soweto, sponsored by Kaya FM, The Sowetan, Sunday World and Absolut Vodka, Soweto, South Africa

SELECTED GROUP EXHIBITIONS

2019
SUMMER, Everard Read, London, UK
Southern Aspect - A Group Exhibition, Everard Read, London, UK

2016
Opening Gallery Exhibition, CIRCA Gallery, London, UK
2015
1:54 Contemporary African Art Fair, London, UK
2014
FNB Johannesburg Art Fair, Johannesburg, South Africa
2013 
Art 13, London, UK
2012 
The 4th Edition of India Modern and Contemporary Art Fair, India Art Fair, India
The 21st birthday celebration of Artist Proof Studio exhibition, Johannesburg Art Gallery, Johannesburg, South Africa
FNB Johannesburg Art Fair, Johannesburg, South Africa
2011
Multiple Views of a Singular Beast, Circa and Everard Read Gallery, Johannesburg, South Africa
Art Angels Charity Art Auction
2010 
A View from the South, Everard Read Gallery, Johannesburg, South Africa
2009
RENDEZVOUS Focus original lithography, an exhibition of more than 100 South African and French artists' artworks touring and exhibited in South Africa
The 50s: An Interpretation, Gallery on the Square, Nelson Mandela Square, South Africa
2008 
Knysna Fine Art, Kysna, South Africa
David Brown Fine Art, Johannesburg, South Africa
Aspire Contemporary Art Gallery, Pretoria, South Africa
Gallery on the Square, Nelson Mandela Square, South Africa
2007 
Thomson Art Gallery in Melville, South Africa
SASOL, Rosebank, South Africa
2006 
Gallery on the Square, Nelson Mandela Square
Spark Gallery
Art on Paper
UJ former RAU Gallery
2005 
Touring exhibition to the Gulf of OMAN Community Art Center, Qatar Hotel, Salala
2003 
The Gallery Premises and the Johannesburg Art Gallery
2000 
Heritage Day for Arts and Culture Exhibition, Belgium
1997 
Polokwane Art Museum, South Africa

COLLECTIONS
Ascot Diamonds
Bell, Dewar and Hall, Johannesburg
Bidvest
BLP Merchandising Solutions
Brait,
Centurion Hotel, Pretoria
Ellerman House, Cape Town
Irma Stern Museum (UCT) , Cape Town
Johannesburg Development Agency
Karoo Hotel outside Cape Town
Medscheme Holdings
MTN print exchange
Nando's
Nedbank, Johannesburg
Norman Borlaug Institute for International Culture, Texas
Raphael Suites and Michelangelo Towers, Sandton
Rand Merchant Bank Corporate Collection
Sasol Collection
South African Reserve Bank
Standard Bank Art Gallery, Johannesburg
UNISA Art Collection
Vodacom